Fatal Head-On Auto Collision on U.S. Highway 57 North Kills One Person, Injures Two Persons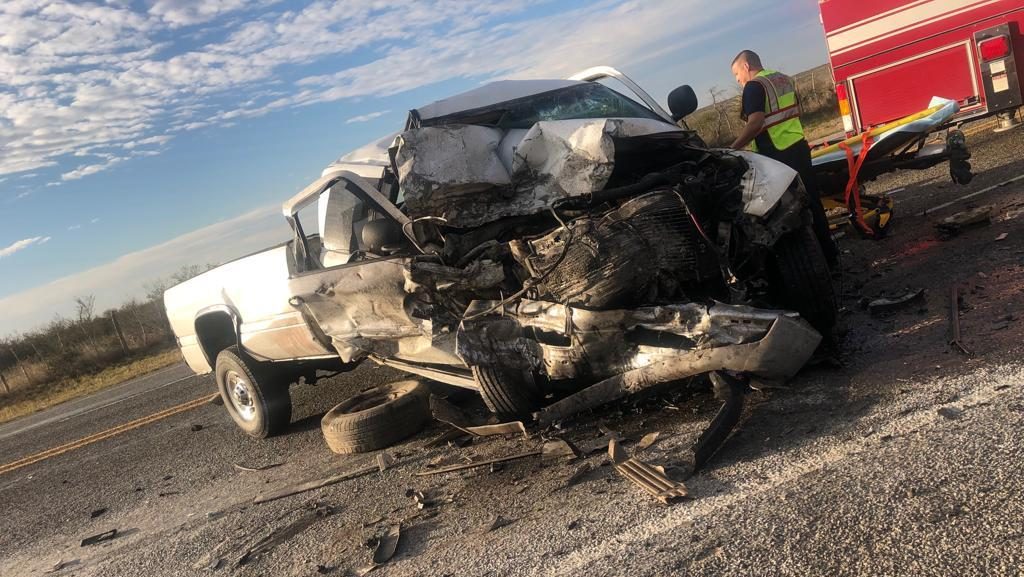 By: Miguel Munoz, Eagle Pass Business Journal, Inc., Copyright 2019
Maverick County Sheriff Tom Schmerber announced that a fatal two vehicle head-on auto collision on U.S. Highway 57 North on Thursday, February 21, 2019, about five miles past Loop 480 in Eagle Pass, Texas killed one person and injured two persons.
According to the preliminary investigation, a 2001 White Dodge Ram Pick-Up Truck was traveling Northbound on U.S. 57 when a 2008 Black/Brown Ford Expedition traveling Southbound veered left onto the incoming lane striking the Dodge Pick-Up head-on.
The Dodge Pick-Up was driven by 55 year old Jesus Cabrera Pizano of New Braunfels, Texas, who was extracted from the vehicle using the jaws of life, and was transported by ambulance to Fort Duncan Regional Medical Center for medical treatment of his injuries in Eagle Pass.
The Ford Expedition was driven by 24 year old Ramiro Martinez, Jr. of Eagle Pass, who was trapped inside the vehicle and extracted using the jaws of life, and was flown by AIR-VAC helicopter to a San Antonio, Texas medical center for medical treatment of his serious injuries sustained.
A passenger in the Ford Expedition driven by Ramiro Martinez, Jr. identified as 27 year old Javier Hernandez of Eagle Pass died upon impact at the scene of the accident and pronounced deceased by a Maverick County Justice of the Peace.
Maverick County Sheriff Deputies and Eagle Pass Fire Department elements responded to the 911 emergency call regarding the tragic auto accident. Texas Department of Public Safety Troopers also responded to the accident.
The fatal head-on auto collision is under investigation by the Texas Department of Public Safety.