Eagle Passan Humberto Perez Passes Away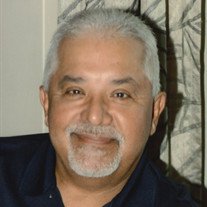 Humberto Perez, Loving husband, father, and friend passed away following health complications at Dell Seton Medical Center in Austin, on Sunday, August 19, 2018, at the age of 59 in Austin Texas. Humberto, a dedicated family man, loved to BBQ on Sundays and enjoyed a variety of sports.
Humberto was born in Eagle Pass, Texas on Thursday, October 30, 1958, to Pilar Zaragosa and Adelina Perez. He graduated from Texas A&I, Kingsville. Following Graduation, he married Ana Maria Flores in Eagle Pass in 1983. She is also a graduate of Texas A&I. Together they planned for and raised their two sons, supporting each other throughout life's tribulations. In 2017, Humberto took early retirement from Chase Bank where he worked as a dealer representative.
Humberto can be described as a humble, dedicated family man always catering to his family's needs. They were his passion. He enjoyed running errands for them and because his flexible career allowed him to work from home, he could manage the household affairs, be his own handyman and attend to his family. Family time was very important to him. Each Sunday Humberto could be found at his BBQ grilling fajitas or other tender morsels for their pleasure or in his driveway washing his cars. He just couldn't sit still, He was a real doer. Humberto was a dedicated friend; maintaining close ties with many of his friends from college. He loved following the Cowboys, Spurs and the Atlanta Braves. He was a man of many talents, interests and deep love for his family.
Humberto is survived by his loving wife and partner of thirty-five years Ana Perez, his sons; Andy and Alex Perez, his sister Norma "Nena" Perez and his brother and sister in law Sergio and Sylvia Perez as well as numerous friends from college and throughout life.
Friends and family were invited to Harrell Funeral Home 1715 Kirby, in Kyle Texas on Wednesday, August 22, 2018, from 5 to 7 pm for a time of visitation and a 7:00 pm rosary service. Friends were invited to Humberto's funeral Mass at Santa Cruz Catholic Church Main Street in Buda on Thursday, August 23, 2018, at 10:00 am. Interment will follow at Live Oak Cemetery in Manchaca, TX.
Pallbearers were: Benny Reyes, Arnold Reyes, Sonny Davis, Robert "Bob" Martinez, Robert Manzano, and Sergio Perez.
Funeral assistance provided by Harrell Funeral Home.
The Perez Family genuinely appreciates and thanks all the Family and Friends who accompanied us during our loss and prayed for the eternal rest of our beloved brother, as well as the flowers, food, and condolences bestowed upon us during our most difficult loss.