Eagle Pass Eagles Battle Pharr San Juan Alamo Bears for Bi-District Football Championship on Friday, November 16, 2018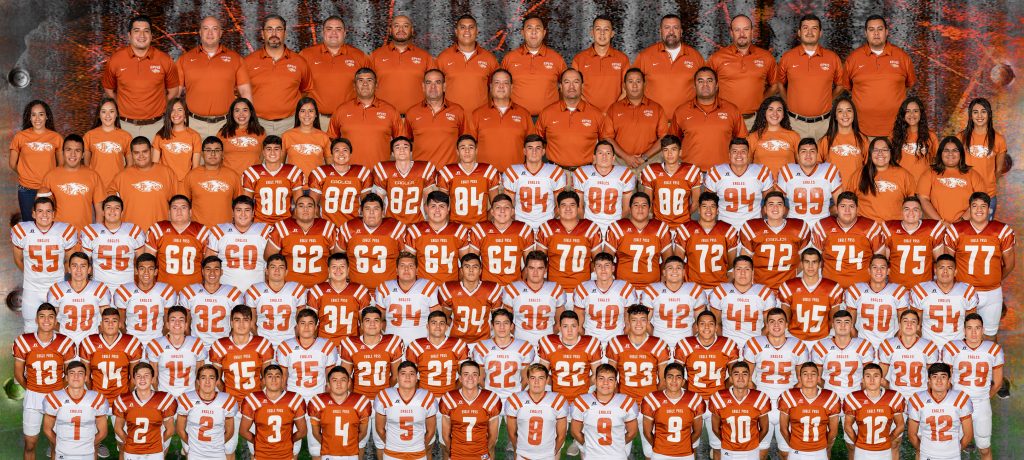 By: Ricardo E. Calderon, Eagle Pass Business Journal, Inc., Copyright 2018
The mighty Eagle Pass High School Eagles will battle the Pharr San Juan Alamo High School Bears in University Interscholastic League (UIL) Region IV, Class 6A Division II, Bi-District Football Championship on Friday, November 16, 2018, at 7 P.M. at the Pharr San Juan Alamo Independent School District Stadium in Pharr, Texas.
The District 29-6A third-place Eagle Pass Eagles enter the Bi-District Championship game with an 8-2 overall season record while the District 30-6A Champion Pharr San Juan Alamo Bears sport a 7-3 season record.
The Eagles under the leadership of Head Coach Tom Gonzalez will rely on their War Eagle Offense and Land Shark Defense against the District 30-6A Bears in the key Bi-District Football Championship on November 16th.
The Eagles explosive War Eagle Offense is led by quarterback Ritchie Luna, running backs Saul Perales and J. Herrera, wide receivers Rey Mendoza, Oscar Castillon, David Lopez, Isaac Gonzalez, and Jacob Ruiz, and offensive linemen Ray Galindo, Jorge Guardado, Tito Villarreal, Jose Laguna, and Alex Martinez.
The Eagles Land Shark Defense is spearheaded by linebackers David Kypuros and Roger Ulloa, defensive linemen Moises Rocha, David Santos, Manny Rodriguez, and Jorge Gonzalez, and defensive backs Ryan Chisum, Nico Moyeda, Kristian Barcena, Eric Heredia, Raul Lechler, Josh Monsivais, and Raul Garcia.
The PSJA Bears offense are led by quarterback Trey Guajardo, running back J.R. Vasquez, wide receivers Marco Guajardo and Miguel Flores while their defense is led by linebacker Jacob Sanchez and defensive lineman Manny Castillo and defensive back Mario Cantu.  The Bears are under the tutelage of Head Coach Lupe Rodriguez.
All Eagle Pass football aficionados are invited to attend the Eagles Bi-District Championship game on Friday, November 16th, against the PSJA Bears at Pharr, Texas and cheer them on to victory.  It should be a great playoff game filled with exciting plays and memories.
The Eagle Pass Business Journal congratulates the Eagle Pass Eagles on making the playoffs and wishes them all the best in their Bi-District Championship game against the PSJA Bears. Go Eagles Baby!