Maverick County Matriarch Amelia Moses Passes Away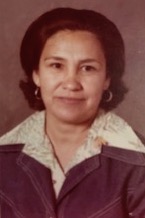 Amelia Moses, age 88, passed away surrounded by her children on May 7, 2019. She was born in Musquiz, Coahuila, Mexico on August 20, 1930, to Martina and Hilario Lopez. She immigrated to the United States in 1951, when she married Abdalla Henry Moses.
Everyone who knew Amelia can attest to her dynamic personality and energy. She spent her life devoted to her family and giving her all to her husband and children. Aside from cooking, sewing, and keeping her home, Amelia participated in school activities such as PTA, school parties, and was always, always interested in her community's politics. She did not miss a single school activity of her children, which included attending every band practice, concert, or piano recital in which her children participated.
Amelia, along with her husband Abdalla, insisted that all six of her children be well educated. She sacrificed to guarantee that all had college degrees, as well as advanced degrees. She was proud to have been a major force in the lives of her children. All still turned to her for guidance.
Just as Amelia helped her children, so too she joined Abdalla in achieving his goals. When he was a candidate for the board of the Maverick County Water Control and Improvement District #1, she worked enthusiastically to ensure he won. She actively campaigned on his behalf and was influential in other political elections supporting candidates whom she thought would benefit her community.
Amelia assisted with the Head Start Program that was held in Quemado for a short period of time. Prior to working at Quemado Elementary School (now Kirchner Elementary School) for many years, Amelia and Abdalla owned and operated Moses General Store. Later, Amelia joined Abdalla in operating Moses Pecan Farm. Amelia was a major force in guaranteeing that the businesses were successful and was an integral part of the operations.
Amelia is survived by her children Deania, Diana (Enrique Gomez), Marina (Juan Munoz), Lilia, Henry (Ann), and Alia; grandchildren Enrique Gomez, II (Hope), Erik Gomez (Whitney), Magaly Munoz Sanchez (Joe Sanchez), Cynthia Munoz, Rita Burchett (Jacob), Sara Moses, and Henry Aeron Moses; and great grandchildren Enrique Andres Gomez, Oryen Gomez, Aiden Sanchez, Sophie Sanchez, Jacob Lopez, Anthony Lopez, Jayden Burchett, and Aries Burchett]. She is also survived by sister Elisa Lopez; brother Agustin Lopez (Socorro); brothers-in-law Hassen Moses (Alicia), Raymond Moses, and Alex Moses (Wanda); and sisters-in-law Elsie Epting (Richard), and Mariam Moses. She is also survived by numerous nieces and nephews.
Amelia was predeceased by Abdalla, her husband of 65 years; and brothers Alejandro Lopez, Hilario Lopez, Gilberto Lopez, Juan Lopez, Guillermo Lopez, and Joaquin Lopez
Pallbearers are Henry Moses, Hassen Moses, Enrique Gomez, Enrique Gomez, II, Erik Gomez, Carlos Lopez, Juan Lopez, and German Galvan, Jr.
Honorary pallbearers are Agustin Lopez, Alex Moses, Raymond Moses; Richard Epting; Gilberto Lopez, Jr.; Alejandro Lopez, Jr.; Roy Cooley, German Galvan, Sr.; Jorge Fraga; and the Honorable David Saucedo.
Amelia's only sister, Elisa Lopez, held a special place of honor in her life.
The Moses family would like to recognize and thank all of Amelia's friends: Dr. Susan Taylor and all her office staff; Diego Taylor; Jalynn Vasquez; Dr. Iliana Cardona; Dr. Jose A. Velez; Sofia and Dr. Angel Martinez, Rosa Alfaro Martinez; Mary Knapp; and Juanita Appleton.
Visitation will be held at Yeager-Barrera Funeral Home, 1613 Del Rio Boulevard, Eagle Pass, Texas on Monday, May 13, 2019, from 3 PM to 9 PM. The rosary will be prayed at 7:30 PM. A funeral mass officiated by Father James Fee will be held at Our Lady of Refuge Catholic Church on Tuesday, May 14, 2019, at 10:00 AM then proceeding to Quemado Valley Cemetery for interment.
Funeral Arrangement in care of and entrusted to: Yeager Barrera Mortuary, 1613 Del Rio Blvd., Eagle Pass, Texas 78852 PH: 830-773-3211.