Eagle Pass Eagles Battle Uvalde Coyotes in 2019 Season Opener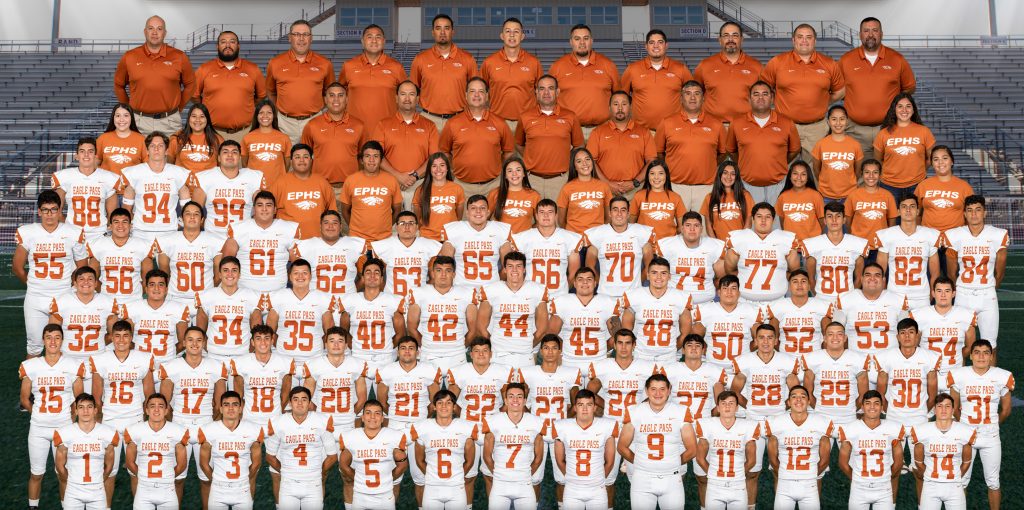 By: Ricardo E. Calderon, Eagle Pass Business Journal, Inc., Copyright 2019
The 2019 Texas high school football season has finally arrived as the mighty Eagle Pass Eagles open against the Uvalde Coyotes in a non-district game on Thursday, August 29, 2019 at 7 P.M. at the Eagle Pass Independent School District Cozel Foster-Veterans Memorial Stadium in Eagle Pass, Texas, announced Eagles Head Football Coach Tom Gonzalez.
The Eagles have 38 returning lettermen from last year's team that went 9-3 and won third-place in District 29-6A and the Bi-District Championship before falling to the Brownsville Hanna Eagles in the Area Championship. The Eagles have five starters returning on offense and three starters on defense.
The Eagles offense will be led by quarterback Allan Rodriguez, tandem running backs Jose Hernandez and Saul Perales, and wide receivers Jacob Ruiz and Armando De Los Santos.
On defense, the Eagles will be led by 2019 District 29-6A Pre-Season Most Valuable Defensive Player Defensive End Charlie Schuessler, defensive end MJ McGehee, linebackers Jacob Salinas, Joe Samaniego, and Saul Perales, defensive tackle Andres Conde, and defensive backs Eric Heredia, Kristian Barcena, Juan Guerra, and Marco Torres.
The visiting Uvalde Coyotes have 26 lettermen returning from last year's 2-8 team under the direction of Head Football Coach R.T. Gonzales. The Coyotes have seven returning lettermen on both offense and defense, respectively. The Coyotes will field a more experienced team this year as most of their players were sophomores and juniors last year.
On Offense, the Coyotes are led by explosive wide receiver D'Andre Carroll, running back Sotero Martinez, tight end Jackson Taylor, and running back Joel Valdez.
The Coyotes defense is led by linebacker Jacob Albarado, defensive tackles Majik De La Garza, Caleb Shaw, Jackson Taylor, and Rodrigo Reyes, free safety Ryan De La Garza, and defensive back Christian Rivera.
The Coyotes will field a much more competitive team than last year due to the maturing of their young players into seasoned lettermen.
Last year, the Eagles defeated the Coyotes by a score of 42-18 largely due to a senior-laden team but this year the game should be more competitive.
The Eagles will seek to continue their winning tradition under Head Football Coach Tom Gonzalez and staff in 2019.
All loyal Eagle Nation football aficionados are invited to attend and support the Eagles in their 2019 football season opener against the Uvalde Coyotes at the friendly confines of venerable Cozel Foster-Veterans Memorial Stadium.
Go Eagles Baby!