Eagle Pass Winn Mavericks Kick-Off 2019 Football Season Against Crystal City Javelinas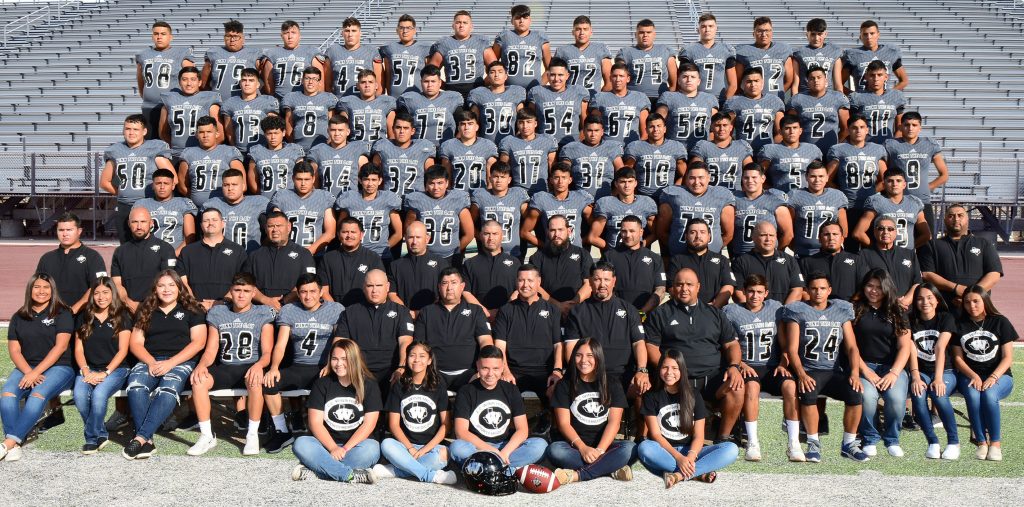 By: Ricardo E. Calderon, Eagle Pass Business Journal, Inc., Copyright 2019
The thundering Eagle Pass Winn High School Mavericks kick-off the 2019 Texas High School Football Season against the Crystal City Javelinas in a non-district game on Friday, August 30, 2019 at 7:30 P.M. at the Eagle Pass Independent School District Cozel Foster-Veterans Memorial Stadium, announced Mavericks Head Football Coach Eric Villasenor. The Mavericks will celebrate Parents Night before the opening kick-off.
The Mavericks have 31 returning lettermen from last year's 6-4 team, including eight on offense and five on defense. The Mavericks will seek to improve in 2019 and qualify for the state post-season playoffs after barely missing them last year.
The Mavericks Offense will be led by senior quarterback Ethan Johnston, running backs JP Ramos and Ethan Casares, wide receivers Ernesto Vasquez and Michael Olivo, wing back Joe Garza III, slot back Matthew De Alba, and offensive linemen Jaime Rodriguez, Adrian Munoz, Daniel Ruiz, Miguel Nino, and Juan Guerra.
On Defense, the Mavericks will rely on linebackers Alex Garcia and Jared Roiz, defensive ends Axel Rodriguez and Jose Hinojosa, defensive tackles Alejandro Ontiveros and Jose Anzurez, and defensive backs Gilbert Vasquez, Argenis Gonzalez, Eric Sanchez, Maximus Contreras, and Andrew Vasquez.
The visiting Crystal City Javelinas have a total of 24 returning lettermen from last year's 8-4 team that advanced to the Area Championship, including five on offense and six on defense. The Javelinas under the helm of Head Coach David Lopez have made the playoffs the past three seasons and will seek to qualify again in 2019.
The Javelinas Offense is led by quarterback John Saucedo, running backs Justin Bonilla and Javier Martinez, wide receiver Carlos Martinez, and tight end Jody Camarillo.
On Defense, the Javelinas are anchored by safety Robert Flores, defensive linemen Juan Urrabazo and Kevin Perez, defensive back Nathaniel Mata, and safety Martin Lopez.
Last year, the Mavericks defeated the Crystal City Javelinas by a score of 21-0. This year, the Mavericks versus Crystal City Javelinas game promises to be a closer and competitive game.
Maverick Nation football aficionados are encouraged to attend and support the Mavericks against the Crystal City Javelinas as well as during the 2019 season.
The Mavericks are counting on their senior leadership to guide them to a successful 2019 season and a state playoff berth.
Roll Mavericks Roll!