Middle Rio Grande Officials Request a Four Year University at Texas State University System Board of Regents Meeting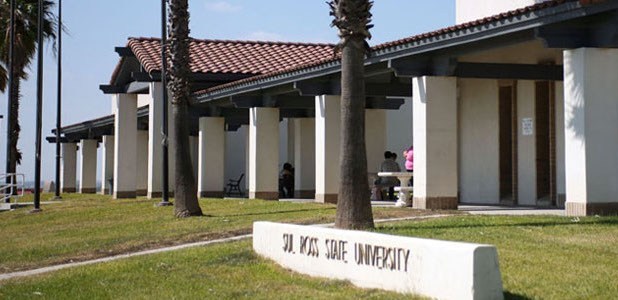 By: Miguel Munoz, Eagle Pass Business Journal
On Thursday, August 22, leaders and community members from Maverick, Val Verde, and Uvalde Counties made a presentation before the Texas State University System Board of Regents at their quarterly meeting, which was held on the Alpine campus of Sul Ross State University.
The group included Maverick County Judge David Saucedo, Eagle Pass Mayor Ramsey Cantu, and LULAC National Education Co-Chair Velma Ybarra, as well as faculty and students of Sul Ross State University Rio Grande College, which has campuses in Eagle Pass, Del Rio, and Uvalde.
The visit was made in order to address higher educational inequities in the middle Rio Grande region. Michael Ortiz, a professor at Rio Grande College, was the first to speak, followed by Mayor Cantu, Judge Saucedo, and Ms. Ybarra.
Ortiz began by describing the resources available to students on the Alpine campus but not to students at the Rio Grande campuses. He contrasted the large and steadily growing population of the middle Rio Grande region with the lack of growth of its campuses.
Mayor Cantu addressed budgetary concerns and the lack of local supervision, which make it difficult for students to register for classes or obtain financial aid.
"The very fact that Sul Ross has a presence in Eagle Pass, Del Rio, and Uvalde means that other universities cannot feasibly move into the area," he said. "But Sul Ross is doing nothing with the opportunities that are available. It is too far away and it lacks the resources and the personnel. Therefore, unless there are some drastic changes that need to be made, the current system will continue to depress our access to higher education in our region."
Judge Saucedo emphasized that he has heard numerous concerns from his constituents.
"And I'm not just speaking once again on behalf of Maverick County or Eagle Pass or saying the campus needs to be here," he said. "I represent … the region which includes Val Verde and Uvalde and those counties, and, speaking with their leaders, they have the same concerns."
In her remarks, Ybarra, a Del Rio native who went on to a career in education in Crystal City and San Antonio, reminded the Regents of the 1987 lawsuit LULAC v. Clements, which had the indirect effect of providing additional legislative support for border universities.
"We are very firm in saying that Del Rio, Eagle Pass, and Uvalde deserve, have earned, and warrant a basic civil right of a full-fledged university campus," she said.
In his response, Sul Ross President Bill Kibler questioned one number cited by the speakers, who claimed that Southwest Texas Junior College has an enrollment of about 7,000. He stated that President Hector Gonzalez had recently told him that there are only 3,800 students. The Texas Higher Education Coordinating Board 2019 almanac lists its enrollment as 6,894; this includes dual enrollment students.
Dr. Kibler also stated that one solution currently being explored is to raise the tuition of Rio Grande College students. He reaffirmed that Sul Ross State University and Southwest Texas Junior College will be holding a Middle Rio Grande Higher Education Summit in Eagle Pass on September 27.
A video recording of the regents meeting can be viewed at
https://mediaflo.txstate.edu/hapi/v1/contents/permalinks/m5B3YsWy/view

The statements begin at the 49:00 minute mark.