Eagle Pass Eagles Host Winn Mavericks in 14th Annual Football Rivalry Game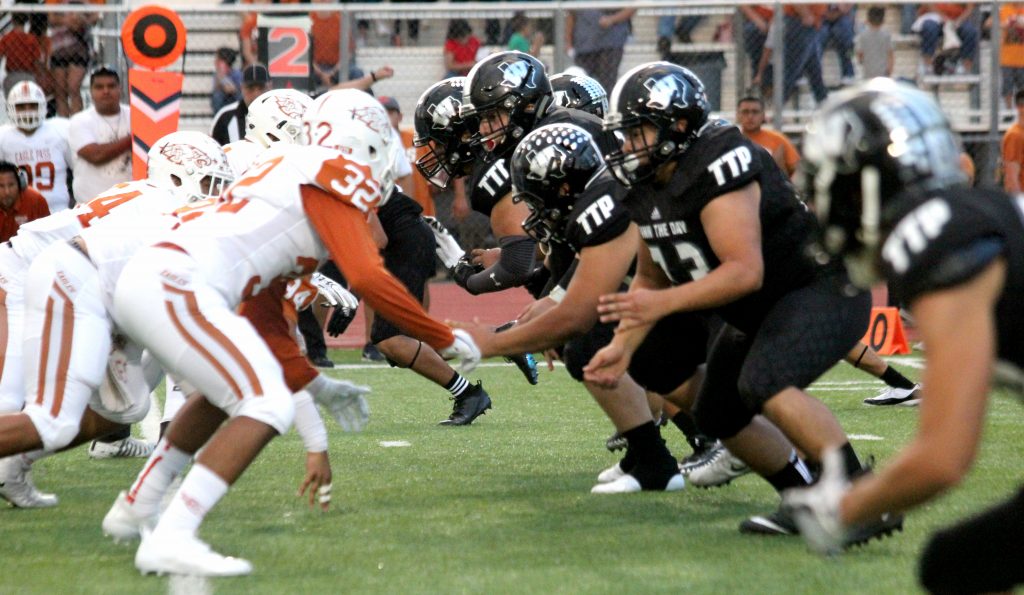 By: Ricardo E. Calderon, Eagle Pass Business Journal, Inc., Copyright 2019
The Eagle Pass High School Eagles will host cross-town rival C. C. Winn High School Mavericks in the 14th Annual Football Rivalry Game on Friday, September 13, 2019, at 7 P.M. at the Eagle Pass Independent School District Cozel Foster-Veterans Memorial Stadium, affectionately called "The Menudo Bowl" by loyal Eagle Nation and Maverick Nation football aficionados.
Eagle Pass football fans highly anticipate this annual football rivalry game between the two local high schools, drawing a packed stadium crowd. Game time is at 7 P.M. Local football aficionados attending the classic game are encouraged to go earlier than usual due to the construction on U.S. Highway 277 North and recommended to use Loop 480 from El Indio Highway and U.S. Highway 57 North to get to the Cozel Foster-Veterans Memorial Stadium. After the game, fans need to be patient in exiting the game due to the large crowd expected and highway construction on U.S. Highway 277 North.
Both the Eagles and the Mavericks enter this 14th Annual Football Rivalry Game with identical records of 1-1 each and closely matched. The Eagles are the home team while the Mavericks are the visiting team this year. The Mavericks seek to break the Eagles 13 consecutive game streak in the series on Friday, September 13th, while the Eagles hope to make it 14 consecutive wins.
Eagles Head Coach Tom Gonzalez will call upon his young offense led by quarterbacks Allan Rodriguez and Fernando Sarabia, running backs Jose Hernandez and Saul Peralez, wide receivers Dakota Kypuros, Cgc Ritchie, Carlos Santos, Chris Hiller, and David Lopez, and offensive linemen Emmanuel Jimenez, David Cortez, Arnie Perez, Emmanuel Balderas, and Alex Martinez to score points for the Eagles in this matchup.
On defense, the Eagles will field defensive ends Charlie Schuessler and MJ McGehee, defensive linemen Santana Martinez and Andres Conde, linebackers Saul Peralez, Joe Samaniego, and Jacob Salinas, and defensive backs Kristian Barcena, David Lopez, Isaac Caballero, and Armando De Los Santos to stop the potent Mavericks offense.
Mavericks Head Coach Eric Villasenor will call upon senior quarterback Ethan Johnston to guide the Mavericks offense against the Eagles together with running backs Ethan Casares and JP Ramos, wide receivers Ernesto Vazquez, Joe Garza, Matthew De Alba, Michael Olivo, and Armando Yebra, and offensive linemen Jaime Rodriguez, Adrian Munoz, Daniel Ruiz, Miguel Nino and Juan Guerra.
On defense, the Mavericks will rely on linebackers Alex Garcia, Jared Roiz, and Michael Farris, defensive linemen Axel Rodriguez, Jose Anzurez, Alejandro Ontiveros, and Jose Hinojosa, and defensive backs Eric Sanchez, Gilbert Vasquez, Argenis Gonzalez, Maximus Contreras, and Andrew Vasquez to stifle the explosive Eagles offense.
In this classic rivalry matchup, both the Eagles and Mavericks have battled hard with good sportsmanship and provided highly entertaining games for the local football aficionados during the past 13 years. This year's game will be no exception. Both teams will go hard and seek to earn the bragging rights of having won the City Football Championship in the famed Menudo Bowl rivalry matchup.
The Eagle Pass Business Journal wishes both the Eagles and Mavericks the best in their 14th Annual Football Rivalry Game and may the best team win. Go Eagles Baby! Roll Mavericks Roll!