Summer SAT Prep Test Course Garners Edwin Pua, Jr. Recognition By School Board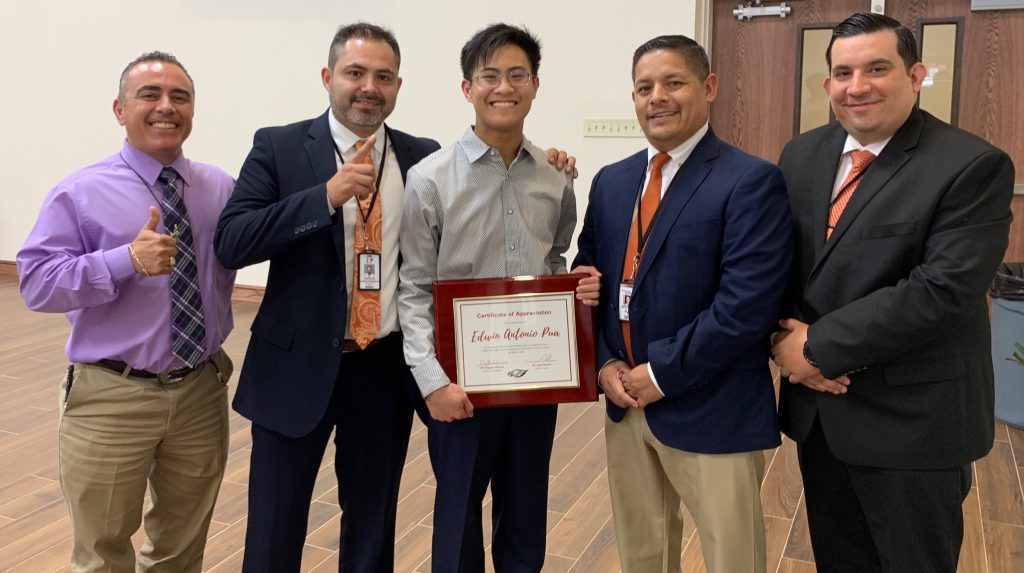 By: Miguel Munoz, Eagle Pass Business Journal, Inc., Copyright 2019
Most high school students dread preparing for and taking the Scholastic Aptitude Test (SAT), but not Eagle Pass High School senior Edwin Pua, Jr. As a matter of fact, Pua loves taking the SAT and considers it a challenge in obtaining a perfect score of 1600. He has already accomplished a 1600 perfect score.
During the summer of 2019, Pua decided to help his fellow schoolmates by sponsoring, developing, and teaching an SAT Prep Test Course free of charge at Eagle Pass High School. Although his jitters of becoming a teacher to his fellow peers lasted only an hour, Pua managed to successfully teach an SAT Prep Test Course for a week to about 20-30 students.
Never before has an SAT Prep Test Course been given at Eagle Pass High School, much less by a student himself. Pua designed his own curriculum for his SAT Prep Test Course and taught it himself to his peers. Several students who took his SAT prep course registered and took the SAT test and congratulated Pua for helping them understand the SAT test subjects and increasing their previous scores.
On Tuesday, September 10, 2019, the Eagle Pass Independent School District Board of Trustees presented a Certificate of Appreciation to Edwin Antonio Pua "for his passion and outstanding dedication to student success. Eagle Pass High School commends your personal efforts to enrich the human mind." Eagle Pass Independent School District Superintendent Samuel Mijares and Eagle Pass High School Principal Luis Huerta signed the Certificate of Appreciation presented by the School Board.
Pua is currently busy with his AP classes, extracurricular activities, and researching and applying to several top national universities in the United States. "I encourage all high school students to take their SAT and ACT tests early and recommend to all seniors to apply to college early in the fall semester," Pua said.
Eagle Pass High School Principal Luis Huerta noted that he had never seen a student offer an SAT Test Prep Course to his fellow peers in his over 15 years as a teacher and administrator, commending Pua for his initiative and genuine interest in enriching his peers minds.