City Councilman Luis E. Sifuentes Announces Candidacy for Mayor of Eagle Pass, Texas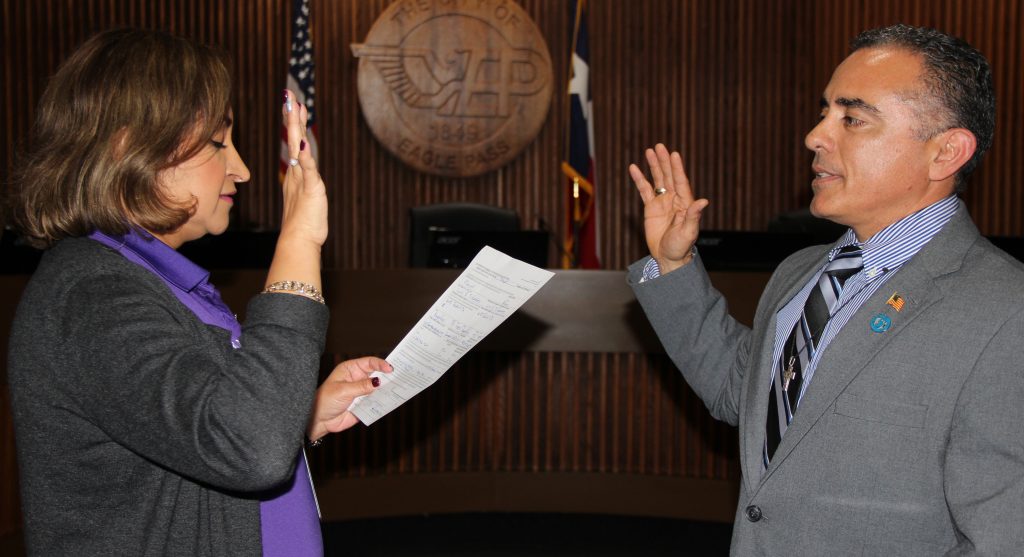 By: Miguel Munoz, Eagle Pass Business Journal, Inc., Copyright 2019
Eagle Pass City Councilman Luis E. Sifuentes announced his candidacy for the position of Mayor in the City of Eagle Pass's Special Officer Election to be held on February 1, 2020 at a ceremony held on Wednesday, November 20, 2019 at the City Council Chambers at City Hall.
Sifuentes also officially registered his candidacy with City Secretary Imelda B. Rodriguez at the November 20th ceremony. Rodriguez administered the Oath of Candidate to Sifuentes and presented him with a Candidate's Election Information Package.
Accompanied by his wife, Cynthia E. Sifuentes, and children, family, friends, and supporters, Councilman Sifuentes stated that "now the time has come for change" in the community "as Mayor Ramsey English Ramsey Cantu seeks to represent us as our [State] Representative for District 74."
Sifuentes has 11 years experience as a City Councilman with the City of Eagle Pass and seeks to become the next mayor of Eagle Pass "to continue to improve all areas of public safety, parks and recreation, planning department, the [International] Bridge [System], Main Street Program, and implementing [new] tools to help promote economic development' to the community.
In an emotional speech, Councilman Sifuentes outlined his vision and platform for the citizens of Eagle Pass if he is elected as the next Mayor. Sifuentes noted that he will build upon the programs and projects developed over the past 11 years during his term as a City Councilman 'to continue to work for economic development throughout our great city using all the tools available through federal and state government, municipal entities, private industry, and local resources." Sifuentes credited Mayor Ramsey English Cantu and the late former Mayor Chad Foster for teaching him about leadership and leading the community of Eagle Pass during the past 11 years.
Sifuentes added that he seeks to improve the quality of life in Eagle Pass by developing programs that will promote the parks and recreation department, Main Street Program, public safety, planning department, public works department, economic development department, international trade and commerce, international bridges, and city administration while maintaining ad valorem property taxes low to city property and business owners.
The Eagle Pass City Council approved a Resolution on November 18, 2019 calling for a Special City Officers Election on February 1, 2020 for the position of Mayor and any other City Council Places which may become vacant due to current Council members seeking higher political office. Candidate registration for the Special City Officers Election opened on November 19, 2019 and runs through December 2, 2019 with City Secretary Imelda B. Rodriguez at City Hall, located at 100 S. Monroe Street, Eagle Pass, Texas. Early voting commences on January 15, 2020 and runs through January 28, 2020 at the Eagle Pass Multi-Purpose Center. Election Day is Saturday, February 1, 2020 at the Multi-Purpose Center.
Councilman Sifuentes' candidacy announcement for Mayor opens up his City Council Place 4 position in the February 1, 2020 City Special Officers Election. Interested candidates have until December 2, 2019 to register for City Council Place 4 with City Secretary Imelda B. Rodriguez to be placed on the February 1, 2020 City Special Officers Election.