City of Eagle Pass Freezing Temperature Alert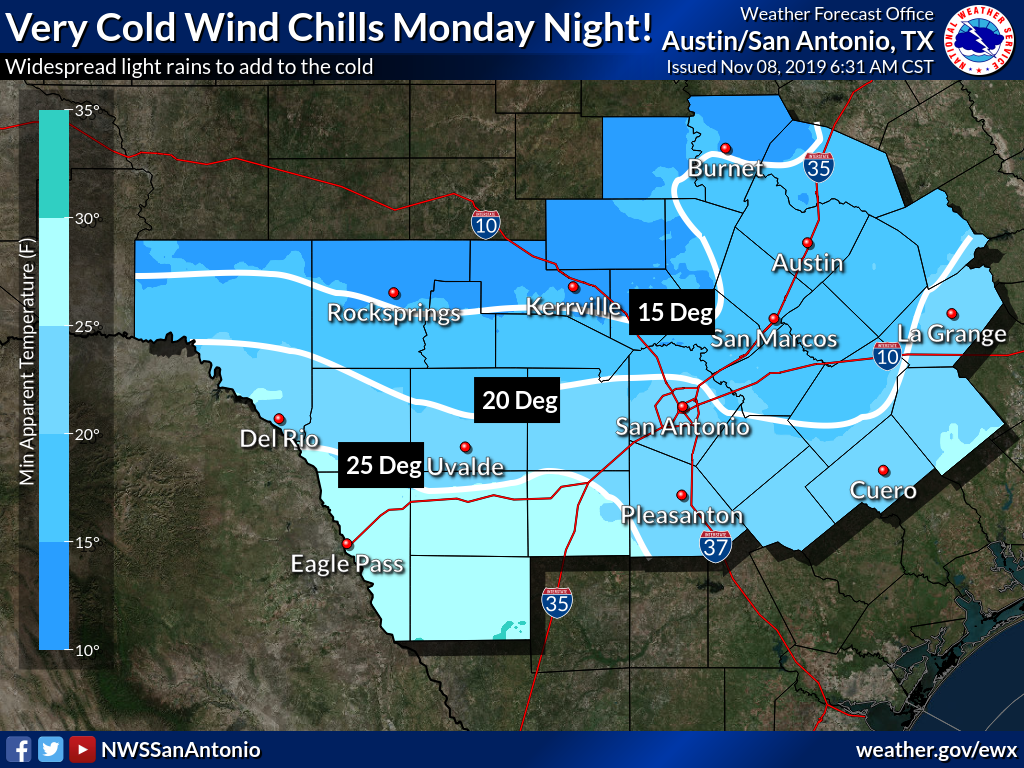 (Press Release) The City of Eagle Pass has received notice from the National Weather Service of Freezing Temperatures, Rain/Snow Mix Possible Early Next Week.
Freezing Temperatures: Most of the region Tuesday and/or Wednesday mornings
Rain/Snow Mix: North of an Eagle Pass to Schulenburg line Monday night/Tuesday morning
Timing and Overview:
A very strong cold front will move across the region on Monday, bringing a blast of colder air to the region Monday night through Wednesday morning. Gusty winds and freezing temperatures behind the front will combine to produce wind chills in the 15-25-degree range across most of the region Monday night and Tuesday morning. Rain showers behind the front during this time may briefly transition to a rain/snow mix, but this will be very dependent on how quickly the cold air arrives and how long rain lasts behind the cold front. As of right now, little to no accumulations are expected. Calmer and drier conditions are expected Wednesday morning, which will allow for more locations to fall below freezing but keep wind chills slightly higher.
Again, Freezing Temperature Alert for our region. Please stay tuned to weather news on television and local radio stations for updated information.
Imelda B. Rodriguez
Public Information Officer
Emergency Operations Center
=====================================================
CIUDAD DE EAGLE PASS
ALERTA DE TEMPERATURA DE CONGELACIÓN
La ciudad de Eagle Pass ha recibido aviso del Servicio Meteorológico Nacional de Temperaturas De Congelación, Mezcla de Lluvia/Nieve posible a principios de la próxima semana.
Temperaturas de congelación: La mayor parte de la región martes y/o miércoles por la mañana
Lluvia/Nieve Mezcla: Norte de Eagle Pass a la altura de Schulenburg el Lunes por la noche/ a Martes por la Mañana
Tiempo y resumen:
Un frente frío muy fuerte se moverá a través de la región el lunes, trayendo una explosión de aire más frío a la región de lunes a miércoles por la mañana. Los vientos fuertes y las temperaturas heladas detrás del frente se combinarán para producir escalofríos de viento en el rango de 15-25 grados en la mayor parte de la región el lunes por la noche y los martes por la mañana. Las lluvias detrás del frente durante este tiempo pueden pasar brevemente a una mezcla de lluvia/nieve, pero esto dependerá mucho de la rapidez con la que llegue el aire frío y de la duración de la lluvia detrás del frente frío. A partir de ahora, se esperan pocas o ninguna acumulación. Las condiciones más tranquilas y secas se esperan el miércoles por la mañana, lo que permitirá que más lugares caigan por debajo de la congelación, pero mantener los escalofríos del viento un poco más altos.
Una vez más, una alerta De Temperatura de Congelación para nuestra región. Por favor, esté atento a las noticias de clima en la televisión y emisoras de radio locales para obtener información actualizada.
Imelda B. Rodriguez
Oficial de Información Pública
Centro de Operación de Emergencias