Eagle Pass High School Student Edwin Pua, Jr. Named Coca-Cola Scholar Semi-Finalist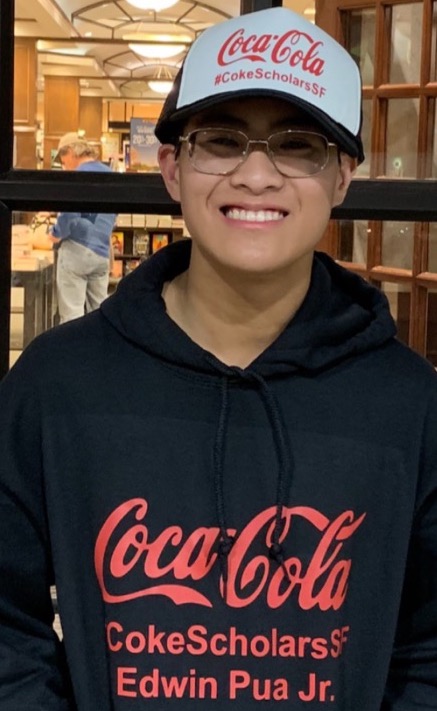 By: Ricardo E. Calderon, Eagle Pass Business Journal, Inc., Copyright 2019
Eagle Pass High School senior student Edwin Pua, Jr. was named a Coca-Cola Scholars Foundation Semi-Finalist among 93,000 applicants across the nation and now is one of 2,000 Semi-Finalists competing for a $20,000 Merit Scholarship, announced Jane Hale Hopkins, President of Coca-Cola Scholars Foundation.
Pua is enjoying his senior year at Eagle Pass High School and currently busy applying for admission to top universities in Texas and across the nation. He is highly likable and friendly among his peers at Eagle Pass High School as well as his teachers and staff.
During the summer of 2019, Pua founded and developed a preparatory review course for the Scholastic Aptitude Test (SAT) for his fellow Eagle Pass High School students. Pua noticed that high school students in other communities had review prep courses to assist them with their SAT scores, but Eagle Pass did not offer such a course.
Pua took the initiative and organized his own SAT review prep course and actually taught the course himself. Pua's SAT review prep course was a big hit among his peers with many students claiming to have benefitted from his course and gaining admission into the colleges of their choice as a result of receiving higher SAT scores than before.
Pua is an unselfish and caring student at Eagle Pass High School, often assisting his peers with their academic and community service projects to make our community a better place to live.
Pua would be a most worthy Coca-Cola Scholar if selected because he exemplifies all the characteristics and values of being a role model high school student. He is truly an All-American high school student.
The citizens of Eagle Pass, Texas are the top purchasers of Coca-Cola products in the State of Texas, if not one of the top cities. What better than to have a Coca-Cola Scholar from the community that purchases the most Coca-Cola products in Texas and raises genuine All-American high school students like Edwin Pua, Jr.
Pua will now enter Phase 2 of the Coca-Cola Foundation Scholars Program and compete to become one of 250 Regional Finalists across the nation. Those selected to be Coca-Cola Scholars must attend Scholars Weekend in Atlanta, Georgia during April 16-19, 2020 to receive the $20,000 Coca-Cola Scholars Program scholarship.
The Eagle Pass Business Journal congratulates Edwin Pua, Jr. on being named a Coca-Cola Scholar Semi-Finalist and wishes him all the best in being selected as a national recipient of a Coca-Cola Scholars Foundation Scholarship.