MicroStar Logistics Honored at Texas Workforce Conference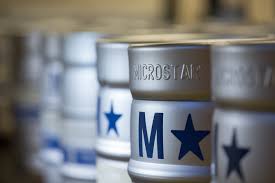 AUSTIN – MicroStar Logistics received the Employer Award of Excellence for the Workforce Solutions Middle Rio Grande area at the Texas Workforce Commission's (TWC) 23rd Annual Texas Workforce Conference held December 4-6 in Dallas. The award honors private sector employers that are actively involved with Texas Workforce Solutions and have made a positive impact on employers, workers and the community.
Workforce Solutions Middle Rio Grande nominated MicroStar Logistics for partnering with Middle Rio Grande, The City of Eagle Pass, and Southwest Texas Junior College to locate workers and pay them starting wages of $15.00 – $31.25 per hour with benefits. MicroStar Logistics used the facilities and Workforce Solutions Office staff to find and train new employees before its start up in March 2019.
"Texas is known for its workforce leadership, which consists of skilled and talented workers and employers," said TWC Commissioner Representing Labor Julian Alvarez. "The Middle Rio Grande Workforce Board and I congratulate MicroStar Logistics for their ongoing commitment of supporting the state's workforce through employment training and development."
Southwest Texas Junior College was recognized for an Adult Education and Literacy (AEL) Best in Class Incentive award. The AEL Incentive awards recognize partners who demonstrate exemplary performance and outstanding AEL service delivery in partnership with employers, community colleges and Workforce Boards. On hand to receive the $40,000 check was College President Hector Gonzales, Adult Education Director Joe Barker and Dean Johnny Guzman.
Middle Rio Grande is among 28 local workforce boards located throughout the state. The board serves Dimmit, Edwards, Kinney, La Salle, Maverick, Real, Uvalde, Val Verde, and Zavala counties. The primary goal of TWC and the workforce boards is to meet the needs of Texas employers and workers through locally-designed, market-driven workforce development initiatives and services. All employers, workers and job seekers are eligible to take advantage of these services.