Texas Democratic Party Chair Declares Ramsey English Cantu as Ineligible Candidate for Texas House of Representative District 74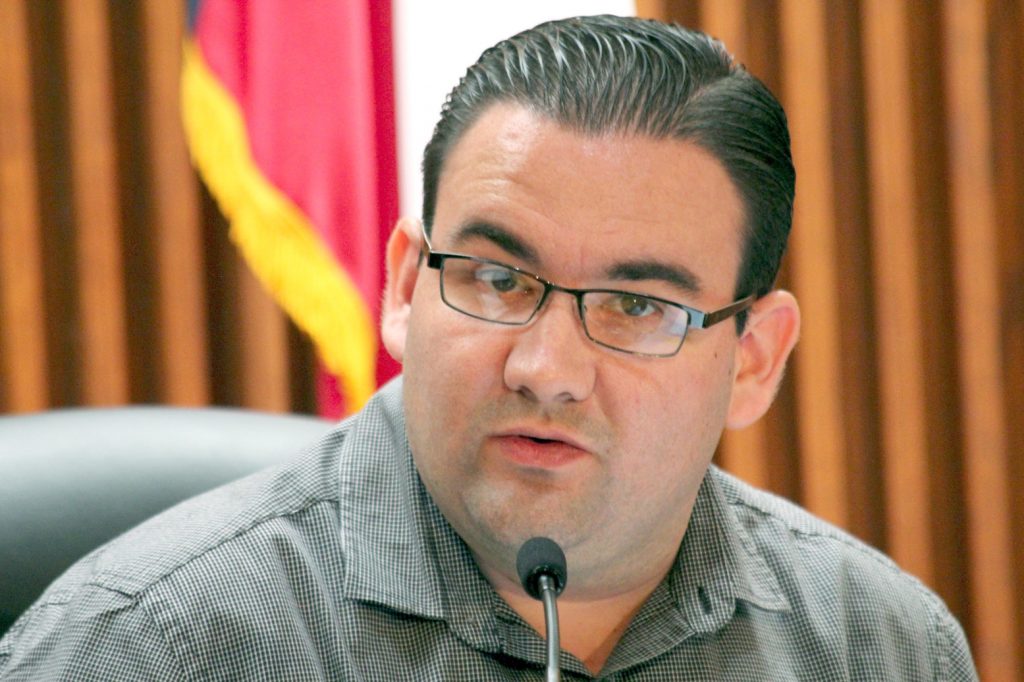 By: Ricardo E. Calderon, Eagle Pass Business Journal, Inc., Copyright 2019
Texas Democratic Party Chair Gilberto Hinojosa issued a letter, dated December 10, 2019, to Eagle Pass Mayor Ramsey English Cantu notifying him that he is ineligible as a candidate for the Texas House of Representative District 74 after receiving two public records from fellow candidate Heriberto "Eddie" Morales, Jr. and reviewing current Texas Election law and the Texas Constitution as well as legal precedents.
Hinojosa concludes that "in this case, the public records provided to me, along with legal provisions laid out above, obligate me to administratively declare you ineligible and I hereby do so."
Hinojosa states that "Today, I received two public records concerning your candidacy from Eddie Morales, another candidate who filed an application for the same office. The first public record is a Certificate of Election showing your election on May 6, 2017 in a new four year term. The second public record is the City of Eagle Pass Charter which demonstrates that your term is four years in length and that you are paid $10.00 per month. Based on these records, Mr. Morales requests that I declare you ineligible pursuant to Texas Election Code Section 145.003."
Hinojosa cites Texas Constitution Article 16, Section 17 in pertinent part as follows: Section 17. SERVICE OF PUBLIC OFFICER PENDING QUALIFICATION OF SUCCESSOR. (a) Except as provided by Subsection (b) of this section, all officers of the State shall continue to perform the duties of their offices until their successors shall be duly qualified. (b) Following the expiration of a term of an appointive office that is filled by appointment of the Governor with the advice and consent of the Senate and that is not an office for which the officer shall continue to perform the duties of office under Subsection (a) of this section ends on the last day of the first regular session of the Legislature that begins after the expiration of the term."
Hinojosa adds that the Texas Supreme Court decided in the case of Willis v. Potts, 377 S.W. 2d (1964) that a Fort Worth City Council Person filed to round for the Texas Senate. At the time, the councilperson was paid $10 "per diem" for each regular meeting. The Supreme Court held that this renumeration made the city council office "lucrative" under the meaning of Texas Constitution Article 3, Section 19. The Supreme Court ultimately held that "It is undisputed that relator's terms as City Councilman, to which he was elected, will not expire until April, 1965, and that should he be successful in being elected State Senator his term would begin before April 1965. Therefore, since he holds a lucrative office under this state, he is ineligible to serve as State Senator a the session to which he seeks to be elected. Being eligible to serve, he cannot have his name appear on the ballot at the coming primary election May 2, 1964, as a candidate for State Senator."
Hinojosa distinguished the Texas Supreme Court case of Wentworth v. Meyer in which the Court held that a former Regent could pursue Legislative Office because he had resigned and "his position as Regent was filled by someone."
Hinojosa postulated that "according to the public records provided to me, your term of office for Mayor will overlap with the term of office for the Legislative position you have applied to be elected to. Your office has not been "filled by someone else" and the City of Eagle Pass website still lists you as Mayor."
Although Cantu attempted to resign from his office as Mayor and a special election has been called for February 1, 2020, Hinojosa noted that Cantu continues to hold the office of Mayor until your replacement is qualified but in any event, Texas Constitution Article 3, Section 19 provides that you are not "eligible to the Legislature" "during the term for which [you were] elected." "The exception, if there is one in the Wentworth case, is not available to you."
Hinojosa cites Texas Election Code Section 145.003(g) to support his decision to declare Cantu ineligible as a candidate for the Texas House of Representative District 74 under the Texas Democratic Party, citing specifically "When presented with an application for a place on the ballot or another public record containing information pertinent to a candidate's eligibility, the appropriate authority shall promptly review the record. If the authority determines that the record establishes ineligibility as provided in Subsection (f), the authority shall declare the candidate ineligible." Hinojosa adds that Section 145.003 (f) of the Texas Election Code provides in pertinent part that "A candidate may be declared ineligible only if ….(2) facts indicating that the candidate is ineligible are conclusively established by another public record."
This declaration of ineligibility will most certainly wind up in the State District Court in the immediate future as Cantu will have to challenge Hinojosa's declaration of ineligibility. Attempts to reach Cantu for comments by the Eagle Pass Business Journal were unavailable as of press time.