Eagle Passan and Patriot Guadalupe "Lupe" D. Silva Passes Away at Age 75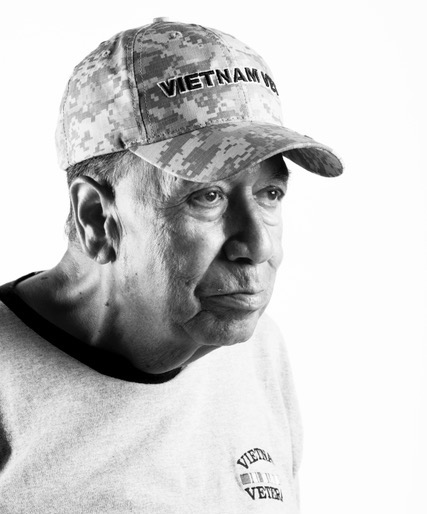 By: Ricardo E. Calderon, Eagle Pass Business Journal, Inc. © 2020
Eagle Passans mourn the passing away of noted native son, Vietnam War Patriot, and avid Eagles fan, Guadalupe "Lupe" D. Silva, at the age of 75 on Friday, January 17, 2020 in San Antonio, Texas
Silva fought a valiant battle against prostate cancer, but eventually succumbed to a recurrence of the illness.
"Lupe" as he was affectionately called by his family, friends, and the community was born on April 29, 1944 in Eagle Pass, Texas to the late Guadalupe Silva and Antonia De Hoyos Silva.
Lupe married Maria Enriqueta "Queta" Fernandez on October 31, 1971 and later sacramentally on February 27, 2011 at Holy Spirit Catholic Church in San Antonio, Texas. Lupe and Queta raised three children, Sandra Costilla, Synthia Avila, and Henry Silva.
Lupe like most young men during his era (1960s) served in the United States Army, 9th Infantry Division, in the Vietnam War and was a decorated patriot, earning the National Defense Service Medal, Vietnam Service Medal, and Vietnam Campaign Medal.
Lupe enjoyed working on his lawn and gardening passionately at his residence. He loved working on his lawn on a daily basis. He also enjoyed music of all genres. He was a loyal Dallas Cowboys and San Antonio Spurs fan. But most importantly, Lupe was the most avid and proudest mighty Eagle Pass Eagles fan and was extremely proud of the fact that his son, Henry, coached for the Eagles. He attended every Eagles game that he could and often traveled out of town to support the Eagles. He loved speaking with people and had a natural gift of being witty and funny, making his family and friends laugh until the very end.
During his younger years, Lupe worked at the local Drive-In Movie Theater and later at the local Goodyear Tire dealer and appliance store. Lupe's people skills opened a new opportunity to work for the tax collection law firms of Gates and Steen and later at the Law Office of Henry Steen for over 30 years as a city, county, and school district tax assessor and collector before retiring in San Antonio.
Lupe was an advocate of education even though he did not have the opportunity to go to college because of the Vietnam War. He instilled in his children, grandchildren, and local youths the value and importance of obtaining a formal education.
Lupe is preceded in death by his beloved parents, Guadalupe and Antonia Silva and his siblings, Myrna Zulema Nelson, Raul Silva, and Manuel Silva, who lovingly welcomed him to the Lord's Kingdom.
Lupe is survived by his beautiful wife, Maria Enriqueta "Queta" Fernandez Silva, three children and their spouses: Synthia and Miguel Avila, Sandra and Jose Costilla, Henry and Adriana Silva; six grandchildren: Marisque and Marsel Avila, Yanitza Costilla, Anyka and Caleb Goebel, Henry Jeremiah and Mia Silva; five siblings: David Silva, Maria Luisa Scobey, Reymundo Silva, Juan Antonio Silva, and Carmen Perez; and several cousins, nieces, and nephews.
The Silva Family is eternally grateful to the Audie Murphy Veterans Administration Hospital and all its physicians, nurses, and staff for their loving care they provided him during his illness and to the Heart to Heart Hospice for their peaceful and serene transition to the Lord's Service.
Lupe peacefully passed away at the home of his oldest daughter and son-in-law surrounded by his family at his bedside.
Funeral arrangements are under the direction of Yeager Barrera Mortuary, 1613 Del Rio Blvd., Eagle Pass, Texas 78852.
Public viewing is on Monday, January 20, 2020 from 2 P.M. to 9 P.M. with a Rosary at 7:30 P.M. and on Tuesday, January 21st, from 9 A.M. to 10:45 A.M. Mass will be celebrated at Our Lady of Refuge Catholic Church in Eagle Pass at 11 A.M. and interment will follow at Our Lady of Refuge Catholic Cemetery in Eagle Pass.
Rest In Peace, Comrade Guadalupe "Lupe" D. Silva.