Elias Diaz Announces Candidacy for City Council Place 2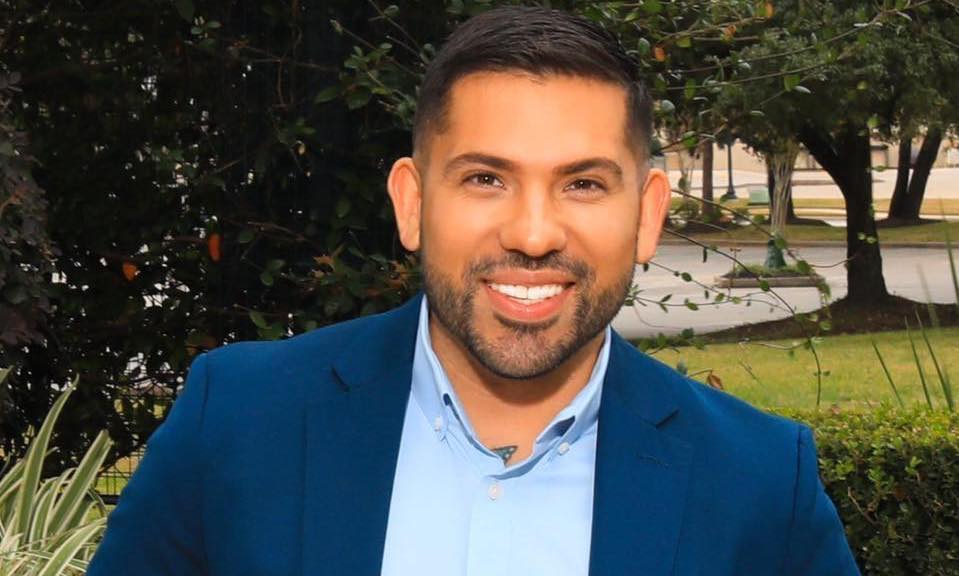 Maverick County Hospital District's Mental Health Clinician, Elias Diaz, has officially registered his candidacy for the Eagle Pass City Council election.
Mr. Diaz is a native of Eagle Pass, TX. and is looking to continue giving back to his community.
"I think I've done what I can do as a community leader. I started this movement of change and creating a culture of inclusivity and diversity. I really wanted to push that within our community. I've heard from so many people the this is the Eagle Pass that we never thought we'd see. And it's happening now, happening all around us. I know that there's more change that is going to happen. And the only way that I can do that now is to make a commitment to my city and that is to serve the community that I live in. I am now embarking in this new journey in our lives and running for City Council," said Diaz.
" I am truly excited and I'm putting all of my heart and soul into this. This campaign is about community and for community."
Elias Diaz returned to Eagle Pass after receiving his undergraduate degree from the University of Southern California in International Relations, and completed his Master's Degree in Clinical Psychology at Antioch University in Los Angeles. He is certified by the Academy of Cognitive Therapy in Cognitive Behavioral Therapy and has received specialized training in Prolonged Exposure for PTSD from the University of Pennsylvania. He is also a Certified Clinical Trauma Professional, with 10 years of clinical experience.
Elias has a long track record of commitment to social justice. In his first clinical role, he served with the prestigious Los Angeles County Department of Mental Health to bring mental health services to the homeless population.
He has co-founded the first LGBTQIA Non-Profit Organization, EP SAFE, which serves the rural communities of the Southwest Texas Border Region. EP SAFE started with a committed group of 5 volunteers and has expanded to a full service organization through the financial support of ViiV Healthcare, Gilead Sciences, and Texas Pride Impact funds, under Diaz's leadership.
As a Mental Health Clinician with Maverick County Hospital District, he has created a behavioral health program that is accessible to all citizens of Maverick County.
Diaz initiated a collaborative effort between EP SAFE and MCHD to increase awareness of preventive measures, decrease barriers to preventive care, and address negative attitudes about HIV to effectively reduce the risk of new contractions. EP SAFE actively works to reduce LGBTQ stigma, a prominent barrier to care, by reinforcing community ties. Through his leadership in this organization, Elias is working closely with leaders in Del Rio to recreate the success of EP SAFE. Through this joint program, both rural communities are addressing LGTQ stigma and raise awareness on sexual health.
At a local level, he serves on the City of Eagle Pass Business and Economic Development Young Professionals Group as Community Outreach Chair. The purpose of this group is to mentor young citizens and ultimately retain talent in Eagle Pass.
He also serves on the Mayor's Fitness Council, using his passion to fitness to bring awareness of the importance of physical activity.
Diaz has also been an active member of HOPE-K, Maverick County Coalition Against Domestic Violence, and Camino Real Maverick County Crisis Taskforce.
At a state level, Diaz is an Ambassador for the Greater than Aids Texas Spanish language campaign, he's brought local and statewide attention to the topic of prevention. Using not just the ads, but personal interviews and personal conversations, he has advocated for the use of PrEP for HIV prevention particularly amongst Latino MSM. His Spanish language interviews on Telemundo and Televisa have also garnished wide spread attention on the topic of HIV and delivered the message to a hard-to-reach population.
Diaz is also a part of the Texas Department of State Health Services Project Materials Review Group. He assists in creating culturally competent messaging and giving voice to the unique challenges of border and rural communities.
Elias is a proud member of the Texas HIV Syndicate, where he serves as Regional Launch Coordinator for the Texas Achieving Together plan.
At a national level, he serves as a contributing expert in the development of HIV Prevention in The United States, Bolstering Latinx Gay and Bisexual Men to Promote and Reduce HIV Transmission by The O'Neill Institute for National and Global Health Law, where he works closely with other leaders to influence policies that shape the way HIV services are delivered.
At an international level, he is a graduate of Leaders across Borders (LaB) an advanced certified binational leadership development program aimed at building the capacity of public health, health care, and other community sector leaders working to improve the health of the communities in the Mexico–US Border region. Through his participation in this binational group commissioned by the US Mexico Border Health Commission, he worked with community leaders from US and Mexico to create a binational database of mental health services.
Political Announcement Paid by the Candidate.