Elizabeth Chisum De La Garza Announces Candidacy for City Council Place 2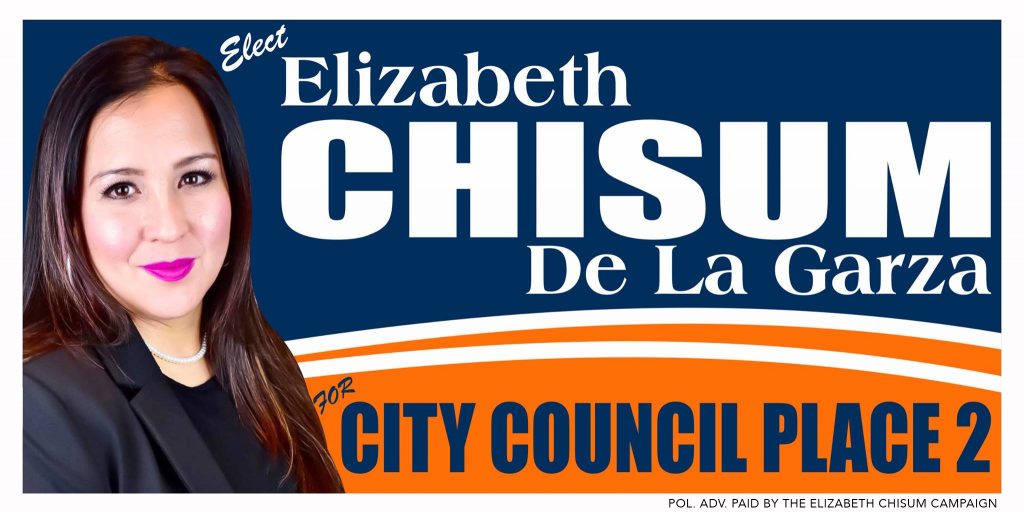 By: Miguel Munoz, Eagle Pass Business Journal, Inc., Copyright 2020
Elizabeth Chisum De La Garza has authorized the Eagle Pass Business Journal to announce her candidacy for the Eagle Pass City Council Place 2 position in the City Special Officers Election on February 1, 2020.
"I am honored to have been raised in a family of Eagle Passans who have dedicated their lives to improving public service, education, and the quality of life in Eagle Pass. My parents, the late Frank Chisum and Ana Maria Chisum, have instilled in me a love of my community and to take initiatives to improve our city into a world-class community through public service, education, and leadership," said Chisum De La Garza.
"As a woman, mother, educator, and community volunteer, I have decided to provide my leadership experience and common sense to the continued success and growth of Eagle Pass as a member of the the Eagle Pass City Council. I am intimately familiar with and have significant experience on handling multi-tasks, complex decision-making, tackling human and business issues, and policy-making decisions while maintaining fiscal responsibility with a compassionate heart and visionary leadership," said Chisum De La Garza.
"As a parent of three children, Clayton, Riley, and Coy De La Garza, and being married to my lifelong sweetheart, Oscar De La Garza, for 22 years, has taught me to focus and handle growth and development of a family household similarly to that of a bustling city within the cusp of achieving greatness," said Chisum De La Garza.
"As an educator and a licensed Speech Language Pathologist Assistant with the local public school district has developed my listening and problem-solving skills similar to those needed of a City Council member. And my volunteer community work with many local organizations, including the Maverick County Junior Livestock Show Association, the Eagle Pass International Bridge System Board of Trustees, the City of Eagle Pass Parks and Recreation Board, and Helping Hands (special needs), have honed my leadership experience and developed an acute understanding of the issues facing our community today and in the future," added Chisum De La Garza.
"As the City of Eagle Pass continues to grow, I like to focus on providing the necessary infrastructure and public services such as police and fire protection, street paving and traffic control, developing economic growth and opportunities for all, provide recreational activities and facilities for children and adults, develop and construct a public safety training center for all law enforcement agencies, revitalize the downtown business district, promote arts, cultural, and tourism events, support economic development, develop and expand international trade, and maintain our ad valorem taxes low and balance the fiscal budget annually," said Chisum De La Garza.
"I support working with all local governmental entities, state and federal governments in completing the construction of Loop 480 from U.S. Highway 57 North to U.S. Highway 277 North, the expansion of U.S. Highway 277 North into four lanes, and the opening of FM 1021 from Eagle Pass to Laredo, Texas to expand international trade and opportunities in our community," said Chisum De La Garza.
"I also support the expansion and/or development of a four-year state university in Eagle Pass, Texas to provide educational opportunities for our children in the Middle Rio Grande region," said Chisum De La Garza.
"I graduated from Eagle Pass High School and received a Bachelor's of Arts degree in Political Science from Texas A & M International University, obtained a Social Studies Composite in Education from Sul Ross State University-Rio Grande College, and have worked with the local public school district," added Chisum De La Garza.
"I strongly believe that I have the courage, vision, and passion to provide the necessary leadership to propel Eagle Pass into a world-class community in the 21st Century," said Chisum De La Garza.
"I respectfully request your support and vote for City Council Place 2 in the February 1, 2020 Special City Officers Election on Saturday, February 1, 2020, including the Early Voting Period commencing on January 15, 2020 and continuing until January 28, 2020 at the Multi-Purpose Center, 480 S. Adams Street, Eagle Pass, Texas," concluded Chisum De La Garza.
Paid Political Announcement by the Candidate.