Luis E. Sifuentes Announces Candidacy for Mayor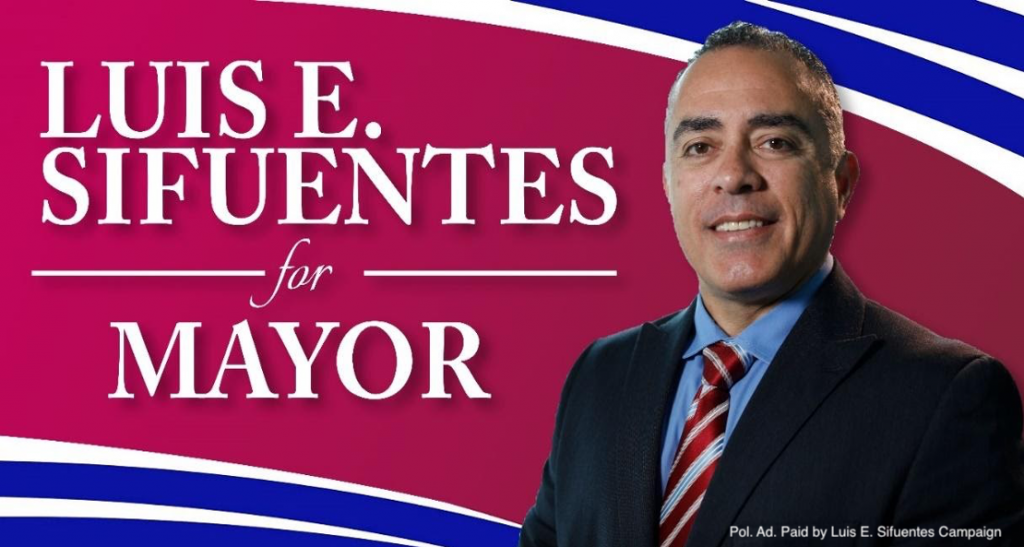 (Press Release) Happy New Year! In 2008, with the support of my wife and family, I made the decision to run for the office of Councilperson Place 4 of the City of Eagle Pass, Texas. I was elected and deeply honored that the Great Citizens of Eagle Pass trusted me to serve our City. Now the time has come to elect a new Mayor.
I am Luis E. Sifuentes, the son of Roberto Sifuentes (♱) and Minerva B. Sifuentes. I am married to Cynthia E. Sifuentes, the daughter of Arturo Guajardo Jr. (♱) and Edilia Guajardo. Together we have four children, Roberto, Eduardo, Diego and Gabriela. My children have seen me serve at work, at church, and our community all their lives. They have supported me throughout the years and now have given me their blessing to seek the Office of Mayor for the City of Eagle Pass.
Thanks to developers, investors and our city employees, we have seen many projects completed over the last twelve years for the benefit of our citizens. New restaurants, retail businesses, residential developments and the upgrades to our infrastructure can be seen throughout our great city. I plan to continue to promote our city to investors with our newly established Economic Development Department. We will continue to implement economic development tools to help recruit and retain new businesses.
Public Safety and Infrastructure are also key to attracting business and industry. As such I will ensure that we continue to provide training and equipment that will help our first responders perform their duties more safely, effectively and efficiently. Very soon we will be opening our new Public Safety Headquarters, which will provide the much-needed facilities for both our firefighters, police officers and dispatchers. Our community keeps growing, and we must work to attract and retain men and women to serve our community as first responders, as so many have done before.
Our infrastructure plays a big role in our first responders to respond in a timely manner, and that is why I will work to continue the maintenance, repair, and reconstruction of our streets. Over the last 10 years, we have repaired, reconstructed and/or maintained over 90 miles of streets. We have also worked on drainage issues, and will soon begin work on other detention ponds and drainage projects to reduce and hopefully eliminate flooding in areas that are affected by huge rainfall that has affected some areas in the past.
Another key component to attracting investors, new businesses and medical professionals are post-secondary education opportunities and opportunities to enhance our quality of life. I will continue to work with Southwest Texas Junior College and Sul Ross State University to promote and create more programs and opportunities critical to our region. I will continue the work we have started to promote the creation of a four-year university in our region. Through our parks and recreation department, we will keep working on our parks master plan to develop activities for all age groups. The ground has been broken for the construction of our new sports complex to be able to provide more opportunities to the thousands of athletes (young and adults) that participate in all our sporting leagues from year to year. This new sports complex will allow us to hold tournaments, which will attract tourism and business to our community.
I love Our City, and I humbly ask for your prayers, your support and your vote to be able to serve you as the Mayor of the City of Eagle Pass. All voting will take place at the Eagle Pass Multipurpose Center located at 480 S. Adams. Early voting begins January 15, 2020, and runs through January 28, 2020. Election day is February 1, 2020. Thank You and God Bless You.
Paid Political Announcement by the Candidate.