Olga Ramos Announces Candidacy for Maverick County Commissioner Precinct 3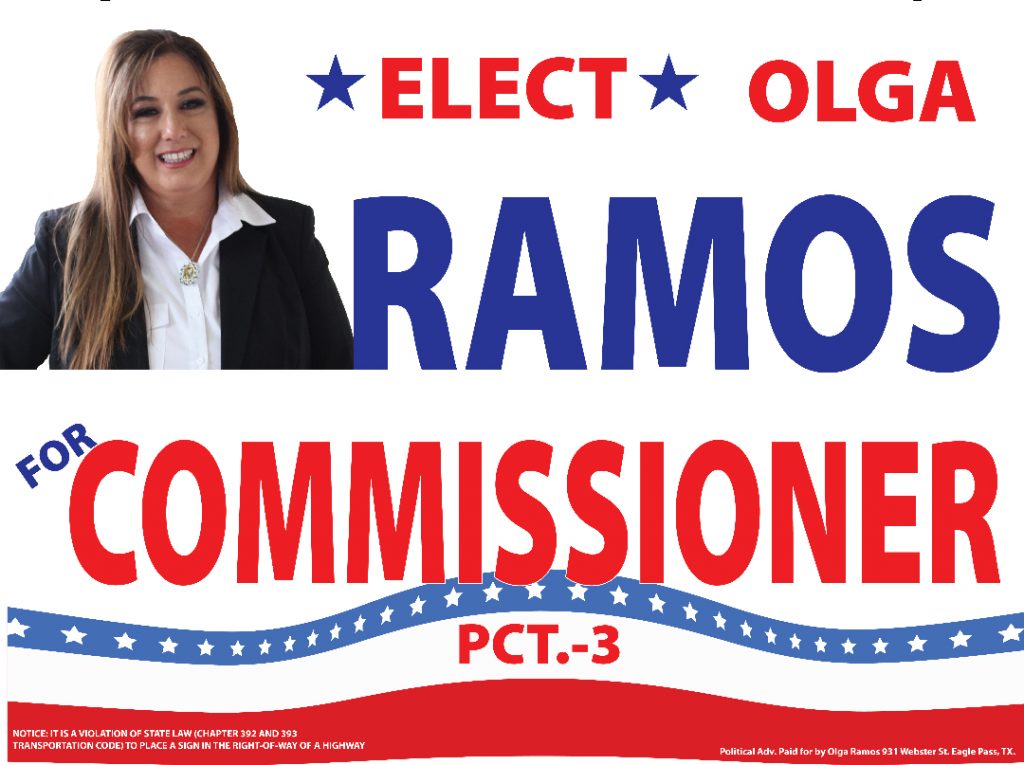 Olga Ramos has authorized the Eagle Pass Business Journal to announce her candidacy for Maverick County Commissioner Precinct 3 in the Texas Democratic Party Primary Election on Tuesday, March 3, 2020, commencing with Early Voting Period from February 18-28, 2020 at the Eagle Pass Multi-Purpose Center, 480 S. Adams Street, Eagle Pass, Texas.
My name is Olga Ramos, daughter of the late Baldemar Martinez and Olga Martinez originally from Zaragoza, Coahuila, Mexico. I was raised in a humble and loving family and instilled traditional values by my parents. My brothers are the late Baldemar Martinez, Jr., Ruben Martinez, David Martinez, and the late Jaime Martinez, and have one sister, Myrna, who is my idol.
My passion for community service and hard work began at a young age. While still in school, I helped my parents to support our family by working as a sales clerk at a local mall and as an agricultural field worker harvesting crops. Since these young job experiences, I learned about the importance of being responsible, collaboration, managing budgets, becoming an independent voice, and doing community service.
I love Maverick County because it is my family's home and seek better opportunities for our children and citizens alike. As Maverick County continues to grow, I genuinely believe that I can provide leadership and develop new community projects to improve the quality of life for all Maverick Countians. I intend to implement the passion for hard work and collaboration that I inherited from my parents to Maverick County, especially to residents of Precinct 3.
The time for change and a new leadership in Maverick County is upon us in this important March 3, 2020 Primary Election, starting with the Early Voting Period from February 18-28, 2020 at the Eagle Pass Multi-Purpose Center.
Join me and thousands of Maverick Countians who seek and are ready for change and hope for a robust and dynamic community full of jobs, opportunities, greater educational programs, and fiscally responsible government with transparency to its citizens. Together, we can and will make Maverick County an enviable place to live, work, study, and raise a family. I respectfully request your support and vote in the Primary Election and encourage your family, children, and friends to exercise their right to vote. Our democracy is only as strong as our participation and vote.
I attended local schools in Eagle Pass, including Our Lady of Refuge School which I graduated from in 1981 and Eagle Pass High School, which I graduated from in 1985. Shorty after graduating from Eagle Pass High School, I married my high school sweetheart, Ricardo Ramos, and together raised a beautiful and loving family of four children, including Ricardo, Jr. who is now an Attorney after serving six years in the United States Marine Corps and is a partner at his own law firm of Ramos and Torres, PLLC, in Eagle Pass and San Antonio, Ruben who is currently a second year law student at St. Mary's University School of Law after graduating from Texas Tech University with a Bachelor of Business Administration degree, David who is currently studying towards his Bachelor of Arts degree, and Janel who is a freshman at Eagle Pass High School.
While raising a busy family of four children, I pursued my educational interests as well and obtained a Bachelor of Science degree from the State University of New York in 1996. As a wife, mother, and woman, I developed and maximized my multi-tasking skills and honed them through education, work experiences, and living in several states as well as in Panama. I have held teaching positions, worked in the legal profession, and founded a small business in the community.
My husband, Ricardo Ramos, served for 20 years in the United States Army and later attended school to obtain his Bachelor of Arts degree and a Juris Doctor degree from the Thomas Cooley Law School in Michigan. He served for 13 years as Maverick County Attorney and is the founder of The Ramos Law Firm in Eagle Pass, where he continues to practice law in state and federal courts.
Working with fellow citizens and leaders, I have a passion for public service and community work. For instance, while my husband was stationed with the U.S. Army in Panama, I served as the Mayor of our housing community of Fort Amador, Panama. In Maverick County, I have served nine years as a Board Member for the Eagle Pass Independent School District Education Foundation. I also have been a member of the Eagle Pass 4-H Club Adult Leader Organization since 1998. For approximately 22 years, I have contributed to the Maverick County Junior Livestock Show and our youth by volunteering and serving in several committees such as Grant Writer, Photography Contest Chairperson, Pageant Director, and the Concession Stand. Currently, I am an officer with the Eagle Pass High School Lady Eagles Softball Booster Club.
I have also served as a Member and/or Officer in the following Maverick County Non-Profit and Charitable Organizations: Eagle Pass Evening Lions Club, Candles for Life, EPISD Committees for Seco Mines Elementary, Graves Elementary, Glass Elementary PTO and Sports Coach, Eagle Pass Youth Soccer Association, U.S. Army Department of Defense Dependent Schools, and the USARSO Family Support Leadership Training Certifications.
I am prepared, qualified, and ready to enthusiastically serve the residents of Maverick County Precinct 3 and become their VOICE in Commissioners Court. I plan to pursue an ambitious plan for progress in our community and apply for public and private grants to improve our county's infrastructure such as streets, roads, highways, bridges, airport, water plant, parks, and industrial park for the residents of Precinct 3 and Maverick County. With my grant writing experience, I plan to seek innovative and creative funding ideas through the State of Texas, Texas Department of Transportation, Federal, and Public and Private organizations to fund, develop, and build a strong infrastructure for Maverick County's present and future growth and development.
I plan to seek partnerships with the State of Texas, Federal government, City of Eagle Pass, Eagle Pass Independent School District, Maverick County Hospital District, Maverick County Water Control and Improvement District No. 1, public housing, law enforcement agencies, and Non-Profit Organizations to create intergovernmental agreements that will benefit Maverick County taxpayers and businesses.
The time to vote for a change and new hope in Maverick County is now-this March 3, 2020 Primary Election, starting with the Early Voting Period from February 18-28, 2020 at the Eagle Pass Multi-Purpose Center.
I humbly ask you to join our campaign and invest in the future of Precinct 3, Olga Ramos for County Commissioner Precinct 3.
VAMOS CON RAMOS!
Paid Political Announcement by the Candidate.