Ramsey English Cantu Announces Candidacy for Texas House of Representative District 74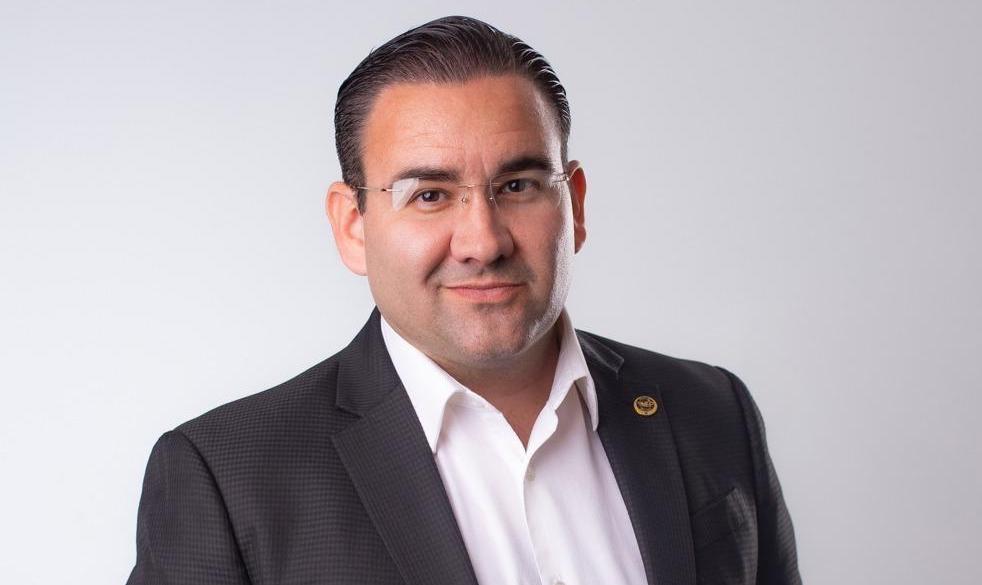 Mayor Ramsey English Cantu hereby authorizes the Eagle Pass Business Journal to announce his candidacy for State Representative of House District 74 for the March 2020 primary.
Mayor Cantu, a life-long resident of Eagle Pass, Maverick County, Texas, is the proud son of Raul "Pecas" Cantu and Byrdie English Cantu. He is the grandson of the late Tomas Cantu Flores and Rosa Cantu Galindo and the late Walter Willis English and Elvira English.
"My call to public service began at the age of 10 when I began volunteering in my city serving at the Thanksgiving Feast of Sharing and collecting contributions with the Teleton Navideño for those in financial need in my community," Mayor Cantu said. "I would later become the president of said organization and annually raise over 70k for our citizens. Serving the public ignited a passion to later serve as a council member of the City of Eagle Pass, Texas at the early age of 22 and ultimately Mayor for the past 10 years. The passion to serve I had as an adolescent burns even stronger in me today. To this day, I have always placed service to the public over myself."
Prior to entering the political arena, Mayor Cantu's mission was to be a representative of the people as evidenced through his selfless commitment and civic responsibility to his community. Outside of municipal government, he has and continues to actively participate on numerous boards in our region as follows:
Mayor Cantu served as a board member representing Maverick County for the Camino Real Mental Health Mental Retardation Center (MHMR) servicing the needs of our residents with special needs. As a member of the Eagle Pass Art's Council, Mayor Cantu joins the effort to bring culture and awareness to the city. This was made evident through the creation of the new Eagle Pass Arts and Culture Center under his administration as Mayor, this past January. He also volunteers his time promoting literacy with the Eagle Pass Independent School District visiting our school children and reading to them.
Mayor Cantu is a strong advocate in the Race for a Cure. He has volunteered with the Relay for Life for over 10 years serving at least 8 years as chairperson of the American Cancer Society Relay for Life. He has championed against cancer and served as an Ambassador for our congressional district joining other congressional leaders and lobbyists in Washington, D.C. to obtain federal funding to find a cure for cancer. With the support and exhausted efforts of many local organizations, businesses and participating schools, youth groups and our dedicated citizens, the American Cancer Society Relay for Life has raised hundreds of thousands of dollars for cancer research and patient services within the Eagle Pass, Maverick County area. In 2013, Mayor Cantu was honored by the American Cancer Society Laredo District for his commitment & dedication in the race to find a cure for Cancer.
Mayor Cantu is an active parishioner of Our Lady of Refuge Church and in conjunction with the Catholic Diocese, he has been a strong and sincere advocate for all citizens in our community who are financially burdened and in need of emergency financial assistance to pay for basic life necessities. Mayor Cantu is also a former member of the Our Lady of Refuge School board.
In his official capacity, Mayor Cantu served as Chairman of the Texas Border Coalition; an organization comprised of Texas Border Mayors and County Judges from El Paso to Brownsville, Texas. Representing nearly 2.5 million people along the Texas-Mexico border, the Texas Border Coalition serves as the collective voice of border communities on issues that affect our border regions' quality of life.
Mayor Cantu served on the Board of Directors for the Middle Rio Grande Development Council. This Council lobbies for state and federal funds for the regional area encompassing nine surrounding counties including, Dimmit, La Salle, Kinney and Val Verde to name a few. While serving on this Board, Mayor Cantu was selected to represent the nine counties at a state level on the Texas Association of Regional Councils (TARC) Board of Directors, where after one year of service he was elected to serve as the first Hispanic President of the state board to tackle state funding assistance for councils of government throughout the State of Texas. In his State office holder capacity, Mayor Cantu has actively been testifying in Austin at our State Capitol to address the needs for funding increases for issues that pertain to health, education, homeland security and environmental concerns.
Mayor Cantu's strong ties and state testimonials afforded him the opportunity to serve on the State Border Trade Advisory Commission under the direction of five different Secretaries of State. Being one of three border Mayors appointed to the Commission, he joined his Colleagues Mayor Pete Saenz of Laredo, Texas and Mayor Bruno Lozano of Del Rio, Texas to bring forth issues of Border Trade and Commerce. This appointment positioned the mayor in a great place to help bring the main issues affecting our border commerce and trade for our region.
Joining the business leaders of our community as a Rotarian of the Eagle Pass Rotary Chapter, Mayor Cantu believes in the formation of strong international ties coming together and working with our local chapter in Eagle Pass. Apart from all his community service and active involvement in our community, he was also employed with The Herring Law Firm, P.C. Currently, he holds an administrative role in the formation of English Cantu, PLLC, a law practice owned by his sister and local attorney Kimberly D. Cantu.
On May 13, 2006, Mayor Cantu was elected to the Eagle Pass City Council Place 2 Position and re-elected to another term in 2008 and also served as Mayor Pro-Tem. On May 15, 2010, he made history and was sworn in as the youngest Mayor of the great City of Eagle Pass.
Mayor Cantu states, "Since February 2, 2006, I have devoted my life to public service, my constituents and the City of Eagle Pass, Texas. My track record speaks volumes and I have always placed people over politics".
Today's Texas calls for serious leaders: those of experience, dedication and proven leadership. While in office, Mayor Cantu fought for and advanced transportation infrastructure, education, public safety and health care. Now the time has come to champion and legislate for the future of Texas, in assuring growth of higher education programs, providing opportunities for our youth in our district, public safety through border security measures, health care for our seniors, and most importantly transportation advancements through TX DOT funding.
"I consider myself a career advocate for my community, constituents, family and friends," Mayor Cantu said. "I continue to have the passion, the vision, the energy and the enthusiasm that inspired me to serve the people 14 years ago. I maintain self-motivated and stand firm on every decision that I have made during my time in public office. I have always placed the best interest of the people first when making decisions despite the negative or positive reactions I might receive. If allowed to serve you at the state level, I will always legislate my conscience over convenience. My strong faith is what keeps me sane during adverse times and with God all things are possible."
John Wesley once stated:
Do all the good you can
By all the means you can
In all the ways you can
In all the places you can
At all the times you can
To all the people you can
As long as ever you can.
"If afforded the opportunity, I CAN and WILL place House District 74 and its constituents first when legislating on their behalf. I will look out for their best interests and would humbly represent our district and our community in the State Legislature. I will be the right voice, this is the right time and I am the right candidate for State Representative in House District 74. Together, we can provide our House District with the representation it deserves."
Be reminded that early voting commences this coming Tuesday, February 18, 2020 thru February 28, 2020 at the Multi-Purpose Center from 8 a.m. to 5 p.m. Election day will be held on March 3, 2020, and we encourage all of our citizens to go out and vote. Again, Mayor Ramsey English-Cantu respectfully asks for your vote and support.
Together, we can continue to move our region forward and assure the greatest quality of life for the residents of House District 74. The future of Texas is NOW.
May God bless each of you and may God continue to bless our great State of Texas!
Paid Political Announcement by the Candidate.