Maverick County Adds Three More Positive COVID-19 Cases, Raising Total to 97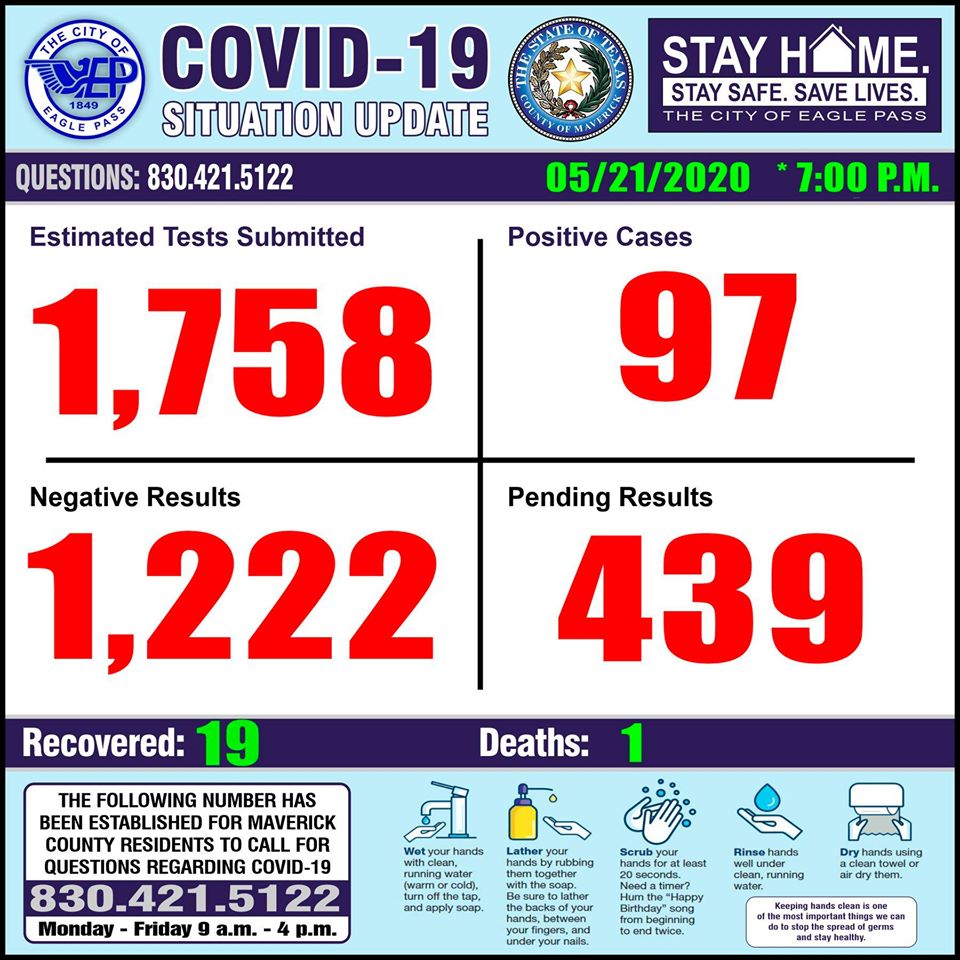 By: Ricardo E. Calderon, Eagle Pass Business Journal, Inc., Copyright 2020
Maverick County's total number of confirmed positive COVID-19 cases continues to steadily increase to 97 with the addition of three new reported cases on Thursday, May 21, 2020, according to Denise Nemeth, PA-C, a volunteer with the Eagle Pass and Maverick County Emergency Operations Center.
Nemeth reported a total of 1,758 people have been tested for COVID-19 in Maverick County with 1,222 negative results, 97 positive results, 439 waiting for test results, 19 recovered patients, and one fatality as of May 21, 2020.
Nemeth stated the total number of people currently hospitalized at Fort Duncan Regional Medical Center with positive COVID-19 are eight, an increase of six new people from the previous report by the Emergency Operations Center.
Eagle Pass Deputy Fire Chief and Emergency Operations Center Director Rodolfo Cardona stated out of the 97 positive COVID-19 cases in Maverick County, a total of 43 cases are family-related or co-worker related. Cardona added that three of the 97 positive cases are individuals from Mexico who have residences and work in Eagle Pass, Texas, but all three are quarantined or in self-isolation in Mexico. It is common among U.S.-Mexico border communities to have residents with residences in both countries.
Since Texas Governor Greg Abbott ordered the reopening of the state's economy and businesses on May 1, 2020, Texas has seen a rise in confirmed positive COVID-19 cases and deaths. The Texas Department of State Health Services reported that as of May 21, 2020 there are 720,928 COVID-19 virus tests administered statewide and another 49,313 antibody tests have been given, resulting in a total of 52,268 positive COVID-19 cases in Texas with 1,440 Texans dying from the lethal virus. A total of 225 Counties in Texas out of the 254 have reported one or more positive COVID-19 case.
As of May 21, 2020, a total of 1,680 Texans are hospitalized with a COVID-19 virus infection. A large number of cases have come from meatpacking companies and nursing homes and senior assistance living centers, but positive cases have come from many sources and locations throughout the state. Governor Abbott announced on May 21, 2020, that he was directing the Texas Health and Human Services Commission to expand COVID-19 testing to all patients, residents, and staff members at the 23 state-run homes for people with intellectual and developmental disabilities and state-run psychiatric hospitals. Last week, Texas announced that every resident and staff member in all nursing homes would be tested for COVID-19 after becoming a hotspot of positive cases statewide.
According to NBC News, there were a total of 1,581,622 confirmed positive cases in the United States with total fatalities of 95,003.
A Columbia University study found that if the United States had imposed social distancing restrictions on March 1, 2020, two weeks earlier than the first stay at home measures imposed by some cities, counties, and states, up to 54,000 less people would have died due to COVID-19 infection. Also, the study found that if social distancing had been implemented nationally a week later, a total of 29,410 less people would have died in the United States. A major problem affecting the United States battle against the Coronavirus pandemic has been the lack of a national plan and strategy from President Donald J. Trump, leaving it to the individual 50 states to handle the deadly virus pandemic.
Unfortunately, the United States will surpass 100,000 deaths due to COVID-19 next week before June 1, 2020 and the number of positive cases and deaths are expected to continue to increase during the summer months just as all states are reopening their economies and businesses.