In Loving Memory of Agustin Aguilar, Jr., U.S. Border Patrol Agent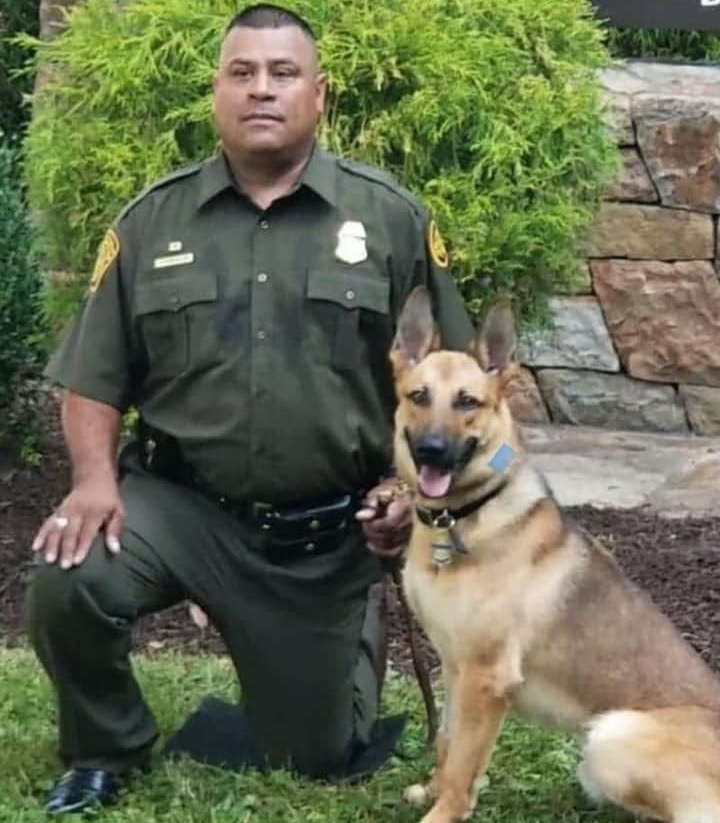 AGUSTIN AGUILAR JR., better known as "Augi" by family and friends, and "Black Dog" by his Border Patrol family was born on September 13, 1974, in Lufkin, Texas to Agustin and Maria Aguilar. Our Fallen Angel departed at the age of 45 in San Antonio at the Audie L. Murphy Memorial Veteran's hospital on July 25, 2020. Augi leaves behind his wife of 14 years, Cecilia Aguilar, of Sabinas Coah., children, Brandon, Agustin III and Victoria Aguilar; siblings, Luis, Samantha, Juan Carlos, Cesar, Jose, Eduardo, Ricardo, Maria, Teresa and Bethzabeth Aguilar; and his 26 nieces and nephews who will cherish his memory and legacy. Augi is preceded in death by his paternal grandparents: Eusebio Aguilar & Serafina Aguilar-Cruses and maternal grandparents: Tereso Rodriguez & Herminia Rodriguez-Riojas.
Family was his greatest priority, as he was the oldest of 11 children, and took the role of the "big brother" seriously. Growing up, he attended St. Patrick's Catholic School and Church, which his family has continued to be actively involved in. He graduated from Lufkin High School in 1993. Augi continued his education at The University of Texas Pan American in Edinburg, Texas where he received a Bachelor of Science in Criminal Justice. He served honorably for 19 years, most recently as a K-9 instructor and handler, for the Custom Border Patrol at the Eagle Pass South Station (Del Rio Sector).
From a young age, he was taught the importance of servicing others and emulated his parents' leadership, commitment, hard work and involvement in his community. He was a Scout Master to troop 288 and a Little League coach in Eagle Pass, Texas. Augi enjoyed sports and was a die-hard Dallas Cowboys fanatic! Everyone who knew Augi, knew he was passionate about everything he committed himself to. Augi was a man of honor and a one of a kind soul. Augi never met a stranger that he didn't make feel like family.
He will always be remembered as a loving father, husband, son, brother, uncle, nephew, cousin and friend. During his spare time, Augi enjoyed finding and fixing muscle cars, and looking for parts. Augi will continue to be a role model to his siblings and someone who they will always look up to.
AUGI WILL BE MISSED BUT WILL NEVER BE FORGOTTEN!
Visitation will be held Friday July 31, 2020 from 4:00-9:00 p.m. with Rosary at 7:00 p.m. Funeral services will be held Saturday August 1, 2020 at 12:00 p.m. graveside services Interment to follow at Our Lady of Refuge Catholic Cemetery.
Funeral Arrangement in care of and entrusted to: Yeager Barrera Mortuary, 1613 Del Rio Blvd., Eagle Pass, Texas 78852 PH: 830-773-3211.