Extraordinary Times Require Extraordinary Leadership: Vote for Elias Diaz for Eagle Pass City Council Place 2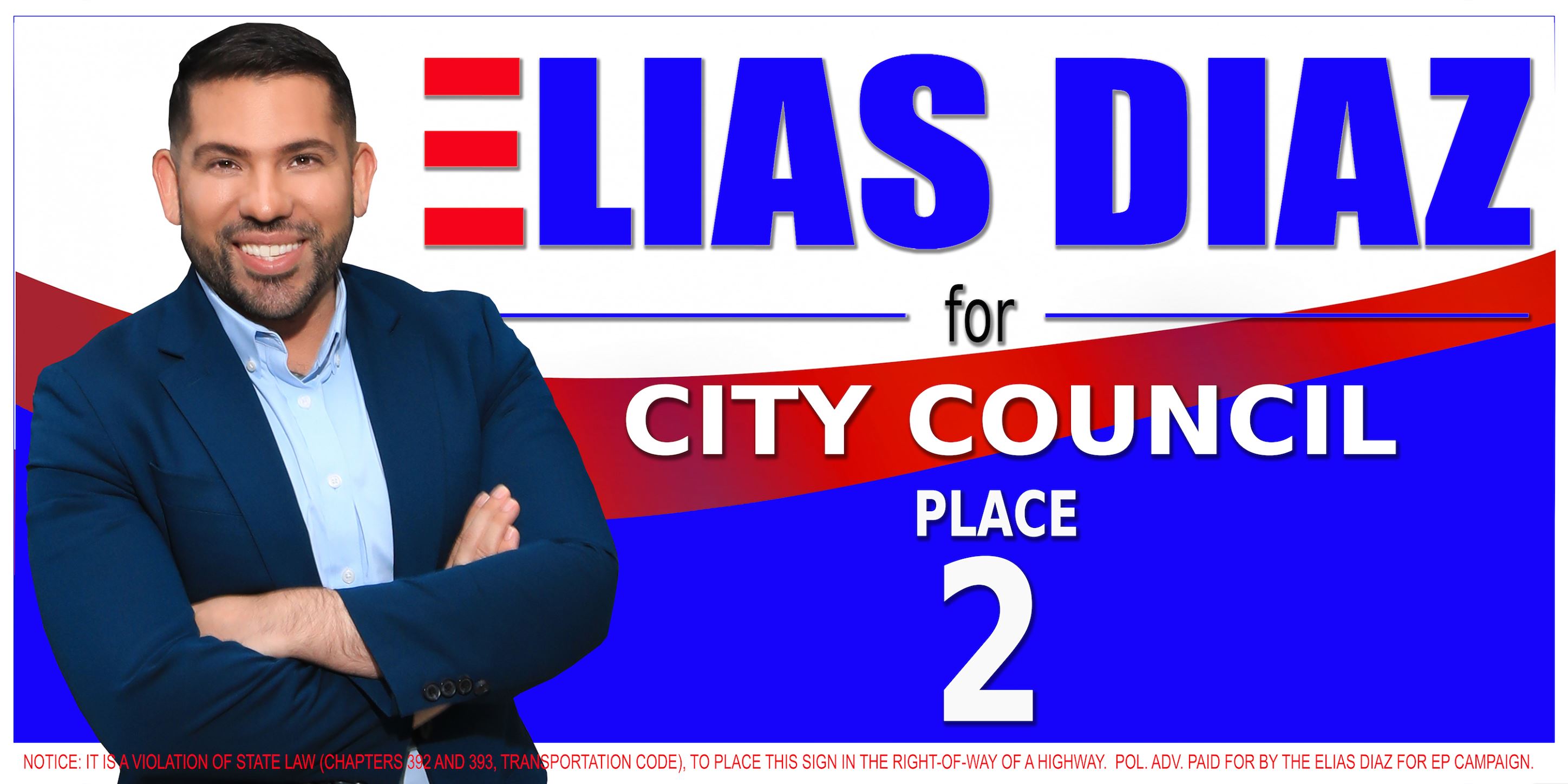 (Press Release) Eagle Pass, Texas-The Citizens of the City of Eagle Pass, Texas are living in extraordinary times as a result of the novel coronavirus pandemic afflicting the community and worldwide, requiring extraordinary leadership to guide the citizens through these difficult times. Elias Diaz, candidate for the City Council Place 2, is the extraordinary leader the citizens of Eagle Pass need and support to lead the community through these difficult times.
The moment for extraordinary leadership and genuine progress in Eagle Pass has arrived with the City Council Place 2 Run-Off Election being held on Saturday, September 5, 2020, at the Multi-Purpose Center, 480 South Adams Street, from 7 A.M. to 7 P.M. It is time to elect a home grown leader, born and raised in the community, like Elias Diaz who will make decisions based on the best interests of the people, not special interests.
President John F. Kennedy once said in 1961 in a speech: "Ask not what your country can do for you, ask what you can do for your country." Elias Diaz has answered President Kennedy's challenge by offering his leadership and experience to improve the quality of life for all citizens of Eagle Pass in these difficult times.
Diaz is committed to developing a culture of inclusivity and diversity in the City of Eagle Pass decision-making process where everyone's opinion and input will be solicited and respected. A collaborative team effort from all citizens, employees, and sectors within the community will be utilized. The goal is to develop policies and decisions that will benefit the citizens of Eagle Pass, improve our quality of life, protect the health and safety of citizens, operate a transparent and open government, and oversee a responsible fiscal year budget.
Diaz has valuable professional and leadership experience in public health, mental and behavioral health, family and marriage counseling and therapy, collaborative programs, grant writing, international relations, economic and business development, leadership development, governmental relations, non-profit organizations, and innovative solutions.
Diaz earned a Bachelor of Arts degree in International Relations from the prestigious University of Southern California (USC) in Los Angeles, California and a Master of Arts degree in Clinical Psychology from Antioch University in Los Angeles, California. He is certified by the Academy of Cognitive Therapy in Cognitive Behavioral Therapy and received specialized training in Prolonged Exposure for PTSD from the University of Pennsylvania in Philadelphia, Pennsylvania. He is also a Certified Clinical Trauma Professional with 10 years of clinical experience.
Diaz developed the Behavioral Health Program at the Maverick County Hospital District in Eagle Pass, where he is employed as a Mental Health Clinician, and opened his private mental health therapy clinic in Eagle Pass. At an international level, Diaz is a graduate of the coveted Leaders Across Borders Program, an advanced U.S.-Mexico leadership program in public health and health care issues.
Locally, Diaz co-founded EP Safe, the first LGBTQIA non-profit organization in Eagle Pass and Southwest Texas border region, serves on the City of Eagle Pass Business and Economic Development Young Professionals Group, the Mayor's Fitness Council, Maverick County Coalition Against Domestic Violence, Camino Real Maverick County Crisis Task Force, and HOPE-K.
Statewide, Diaz is a member of the Texas Department of State Health Services Project Materials Review Group, the Texas HIV Syndicate as Regional Launch Coordinator for the Texas Achieving Together Plan, and is an Ambassador for the Greater Than AIDS Texas Spanish Language Campaign.
Diaz is recognized as a local, state, and national leader for bringing people together to work on collaborative projects and developing innovative solutions to challenging social, public health, and health care issues. He is now ready to offer his extensive experience and leadership skills to the citizens of Eagle Pass as their next City Council Place 2 Council Member.
Elias Diaz respectfully requests all citizens of Eagle Pass to participate in and come out to vote on Saturday, September 5, 2020, City Council Place 2 Run-Off Election from 7 A.M. to 7 P.M. at the Multi-Purpose Center and cast your ballot for an experienced leader, Elias Diaz.
(Paid Political Announcement).