Maverick County COVID-19 New Cases Decrease as Public Testing 'Dissipates,' Only 12 New Cases and No Deaths Reported on Tuesday, September 1, 2020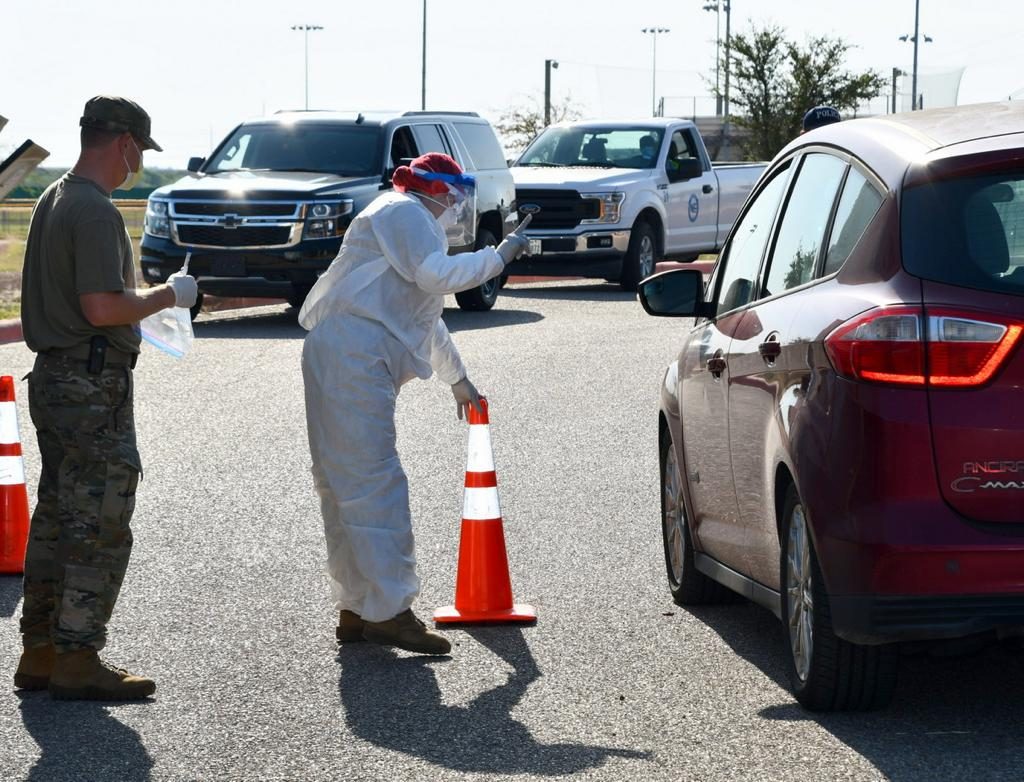 By: Ricardo E. Calderon, Eagle Pass Business Journal, Inc., Copyright 2020
As the City of Eagle Pass, Maverick County, and local health providers have significantly decreased public testing for COVID-19, the numbers for new confirmed positive COVID-19 cases have decreased in the community in recent days, including 12 new cases and no deaths reported on Tuesday, September 1, 2020 by Maverick County Judge David R. Saucedo.
County Judge Saucedo stated that there is "a little bit of good news today" as he reported that only 12 new confirmed positive COVID-19 cases and no new deaths were reported on Tuesday, September 1, 2020.
County Judge Saucedo stated that a total of 15,696 people in Maverick County have been administered a COVID-19 test with 3,347 positive results, 12,211 negative results, 138 pending results, 2,810 recovered people, 444 active cases, 93 fatalities, 36 current hospitalized patients, and a positivity rate of 21.5 percent.
County Judge Saucedo noted that COVID-19 testing in Maverick County had begun to "dissipate," citing that local citizens must not have COVID-19 symptoms, do not feel they have to get tested, and the "numbers are going down by themselves." He added that "people are in their groove."
Saucedo, however, added that local citizens should not let their guard down this coming Labor Day Weekend Holiday, September 4-7, and remain vigilant in observing the CDC Guidelines of wearing a face mask in public, wash hands with soap regularly, use hand sanitizer regularly, practice social and physical distancing of six feet, avoid gatherings of 10 or more people, limit travel to essential matters, and stay home. Saucedo pointed out to limit any gatherings to only one's immediate family.
While responding to questions from viewers of his daily COVID-19 report concerning the August 29, 2020 New York Times article ranking Eagle Pass as No. 1 in the United States with COVID-19 cases based on a population-adjusted basis, County Judge Saucedo stated "we don't have knowledge about where these numbers come from or how they are utilized or the metrics utilized." He acknowledged this article is "out there," but "we don't want that out there." The New York Times COVID-19 numbers come from those reported by the City of Eagle Pass and Maverick County Emergency Operations Center and the Texas Department of State Health Services.
Local health providers who administer the COVID-19 tests in Maverick County have reduced their hours of testing, are following the politically compromised CDC Guidelines for testing which now do not require people having contact with a positive person to have to test, are charging fees for the tests when they advertise free testing, and the City of Eagle Pass and Maverick County are no longer actively promoting COVID-19 testing to its citizens as before.
Unlike the City of Eagle Pass and Maverick County, other communities such as Del Rio, Laredo, El Paso, McAllen, Corpus Christi, San Antonio, Houston, Austin, Dallas and many others are still sponsoring aggressive COVID-19 testing programs for their citizens-free of charge, walk-in basis, and no symptoms required. Anyone who wants to get tested is offered a free COVID-19 test in these other communities.
Eagle Pass and Maverick County still have testing centers, but are not being promoted and their burdensome requirements and reduced hours of operation are discouraging citizens from getting tested. This restricted testing strategy may backfire in the near future in the community because when the third wave of COVID-19 infections begin to hit in the Fall and Winter seasons, local authorities will not know who are the new positive cases and who they have had contact with since they did not get tested. In addition, many of the new positive cases are going to be asymptomatic without knowledge that they are carriers of the virus, infecting many with whom they have contact with.
One primary example of this is the reopening of schools and colleges and universities that are reporting a spike of COVID-19 infections among students, teachers, and staff in less than two weeks of opening, causing that students be quarantined or returned home to resume online instruction.
While overall new confirmed positive COVID-19 cases are decreasing in Maverick County, State of Texas, and United States, public health experts are wary that the reopening of schools, colleges and universities, and the Fall and Winter seasons of the Flu and COVID-19 might cause a spike of COVID-19 cases greater than the Summer. The best preventative measure against any potential spike of new COVID-19 cases is to maintain an aggressive testing and contact tracing program in the community.