Three More Maverick County Citizens Died from COVID-19 and 24 New Confirmed Positive COVID-19 Cases Reported September 14, 2020, Bringing Cumulative Total to 118 Deaths and 3,571 Cases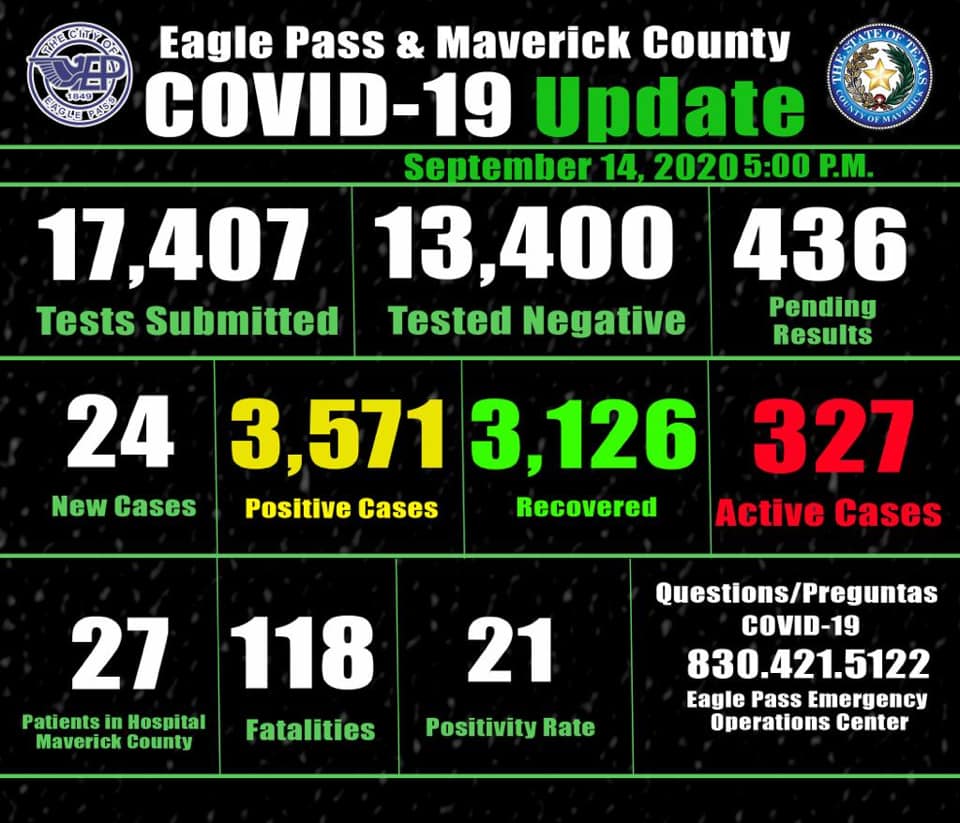 By: Ricardo E. Calderon, Eagle Pass Business Journal, Inc., Copyright 2020
Three more Maverick County citizens died from COVID-19 and 24 new confirmed positive COVID-19 cases were reported on Monday, September 14, 2020, announced Eagle Pass Mayor Luis E. Sifuentes at the joint City of Eagle Pass and Maverick County COVID-19 press conference. Two of the deceased passed away in August of 2020 in San Antonio, Texas hospitals but were delayed in being reported while another passed away locally. All three deceased were females, ages 54, 59, and 86.
Mayor Sifuentes stated a total of 17,407 people in Maverick County have had a COVID-19 test administered with 3,571 positive results, 13,400 negative results, 436 pending results, 326 active cases, 3,126 recovered people, 118 deaths, 27 people are currently hospitalized, and the positivity rate slightly increased to 21%, which is very high.
Sifuentes noted that there were 24 new confirmed positive COVID-19 cases but four of them are from August 2020 and being delayed reported on September 14, and 66 additional people recovered from COVID-19.
Sifuentes added that COVID-19 testing and new confirmed positive COVID-19 cases have decreased in Maverick County during the past several weeks. Sifuentes, however, stated that the positivity rate remains high at 21%, increasing by .01 percent.
Sifuentes admonished all Maverick County residents not to let their guard down and to continue following the CDC Guidelines to wear a face mask in public, wash hands with soap regularly, use hand sanitizer regularly, practice social and physical distancing of size feet, and avoid gatherings in order to slow the community spread of COVID-19.
Maverick County Judge David R. Saucedo announced there is going to be another South Texas Food Bank COVID-19 Free Food Distribution on Thursday, September 17, 2020, at 9:30 A.M. at the Eagle Pass Independent School District Student Activity Center Parking Lot, located at U.S. Highway 277 South, in Eagle Pass, Texas. The food distribution is open to the public and participants must bring an Identification Card and have their vehicle trunks cleared so that the food may be placed inside of it. Over 3,000 food distributions will be donated to local citizens on a first come, first served basis.
COVID-19 continues to batter the United States with 447 new deaths and 36,836 new cases were reported on September 14, 2020, bringing the cumulative total to 194,300 deaths and 6,574,800 people infected with COVID-19 as of September 14.
Texas reported 21 new deaths due to COVID-19 and 2,595 new confirmed positive COVID-19 cases on September 14, 2020, bringing the cumulative total to 14,211 deaths and 663,445 confirmed positive COVID-19 cases.