Legendary Attorney and Philanthropist Verne F. Knickerbocker Passes Away in San Antonio, Texas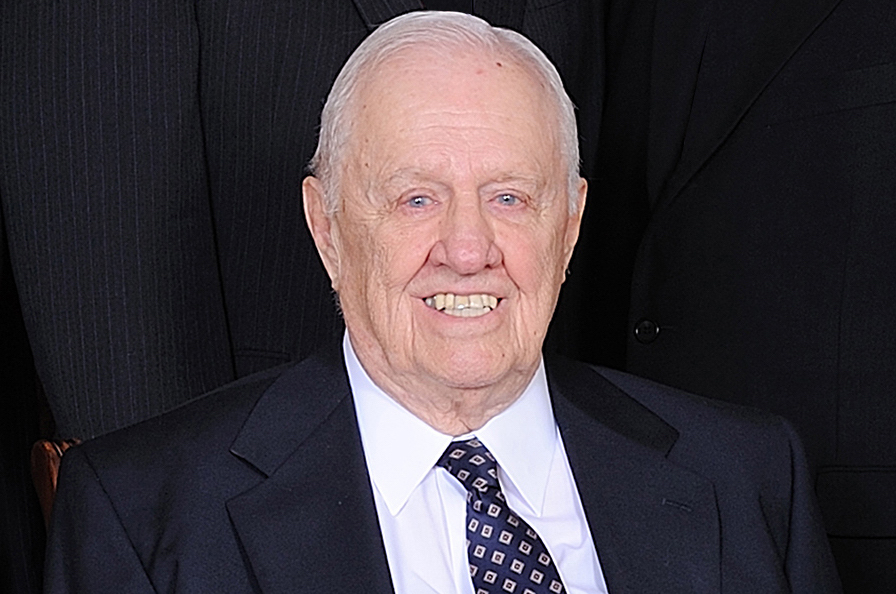 By: Ricardo E. Calderon, Eagle Pass Business Journal, Inc., Copyright 2020
Texas legendary attorney and philanthropist, Verne F. Knickerbocker, passed away on Monday, November 9, 2020, at the age of 92 years old in San Antonio, Texas, according to former law partner, Claudio Heredia, of Knickerbocker, Heredia, Salinas, and Salinas in Eagle Pass, Texas.
Many Eagle Passans mourn the passing of Verne F. Knickerbocker on November 9, 2020 in San Antonio, recalling fond memories of his extraordinary jury trial victories, passionate legal advocacy, and generous philanthropic contributions to numerous Eagle Pass and Maverick County organizations and individuals.
Knickerbocker was a strong and ardent supporter of the youth and education in Maverick County through fifty years of philanthropic donations to the children and awarding of numerous scholarships to local students to further their academic studies.
On January 28, 2017, the Maverick County Junior Livestock Show Association dedicated the 2017 Show to Verne F. Knickerbocker for "his extraordinary contributions and support to the local show and the youth of Maverick County since 1970." Maverick County Junior Livestock Show Association Board President Tim Hardt noted that Verne F. Knickerbocker and his law firm established the tradition of Maverick County businesses and attorneys unwavering support of the annual livestock show and the local 4-H and FFA youths who presented their animal projects.
Heredia recalls several years ago, Knickerbocker called him to donate $50,000 for purchasing local youths livestock show animals and another $50,000 for awarding scholarships to local graduating seniors to pursue their studies in college. "This is the Verne F. Knickerbocker local people remember. He loved supporting the community since the first day he moved into Eagle Pass in 1970. He believed in contributing back to one's local community. He did this annually," said Heredia.
Knickerbocker was born on September 1, 1927 in Chicago, Illinois and attended high school in Chicago and in Knox, Indiana. In 1945, Knickerbocker joined the United States Navy and served in World War II. Upon completing his military service, Knickerbocker attended and graduated from De Pauw University with a Bachelor of Arts degree. He attended the University of Texas at Austin School of Law and earned a Bachelor of Law (LL. B.) degree in 1953 and was licensed as an Attorney by the Texas Supreme Court in 1953. During 1955 to 1969, Knickerbocker practiced law in Midland, Texas and served as President of an Oil company.
In 1969, Knickerbocker visited Eagle Pass, Texas to assist a local business family with a Court hearing and he liked it so much that he decided to relocate to Eagle Pass from Midland. Knickerbocker first opened his law office in Eagle Pass in 1970 at the historic Eagle Hotel in downtown Eagle Pass and later purchased the building across the street from the Eagle Hotel to relocate his law office.
Knickerbocker grew his law firm by adding Jerald Abrams and Sid Cowan to form Knickerbocker, Abrams, and Cowan. Through the years, Knickerbocker hired and trained many local attorneys such as Claudio Heredia, Rolando Jasso, Joaquin L. Rodriguez, Cynthia Muniz, Earl Herring, Jose "Joe" Ruiz, Felipe Hernandez, Gregory Torres, Michael J. Bagley, Marco Salinas, Rolando Salinas, and Ana Sophia Berain-Garcia.
Knickerbocker represented thousands of individuals and businesses during his illustrious legal career. He developed a reputation for being fearless, aggressive, and passionate for pursuing justice for his clients, many of whom were low-income, working class, farm workers, factory workers, and indigent who could not afford an attorney.
Funeral arrangements will be announced in the immediate future by the Knickerbocker Family.