MSNBC "Jose-Diaz Balart Reports" News Show Broadcasts Live from Eagle Pass, Texas
By: Ricardo E. Calderon, Eagle Pass Business Journal, Inc., Copyright 2022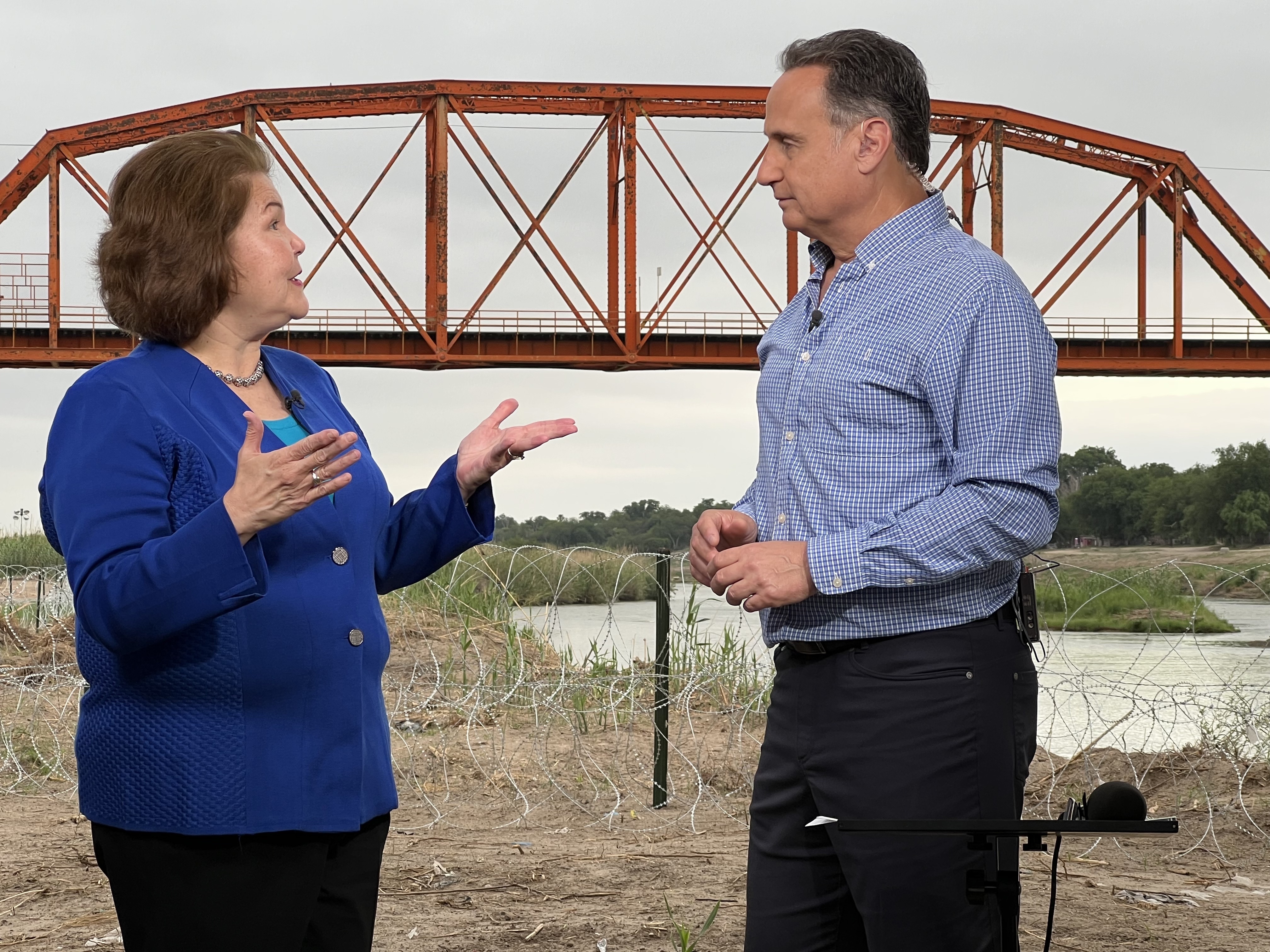 MSNBC "Jose Diaz-Balart Reports" news show hosted by Jose-Diaz Balart was broadcast live on Friday, May 13, 2022, from the banks of the Río Grande under the City of Eagle Pass, Texas Camino Real International Bridge on the day on which a United States District Court Judge in Louisiana is holding a court hearing to determine whether to enjoin the Biden Administration from lifting the controversial Title 42 public health law on May 23, 2022 from being applied to immigrant refugees seeking asylum and being deported to their country of origin.
Veteran news reporter and anchorman, Jose Diaz-Balart, hosted his show in Eagle Pass and interviewed local dignitaries and citizens to get their feedback on the impact Title 42 would have on the community were it to be lifted by the Biden Administration and the decision of the federal district judge in Louisiana.
Diaz-Balart interviewed Eagle Pass Mayor Pro-Tem Yolanda P. Ramon, State Representative Eddie Morales, Eagle Pass-Maverick County Economic Development Alliance Executive Director Judith A. Canales, and criminal defense attorney and Eagle Pass Business Journal Publisher, Ricardo E. Calderon.
Mayor Pro-Tem Ramon discussed the impact the recent surge of immigrants in the community has had on the City of Eagle Pass and its citizens. Ramon noted the City of Eagle Pass is preparing for an even larger surge of immigrants should Title 42 should be lifted on May 23, 2022.
State Representative Eddie Morales discussed the measures being taken by the Texas Legislature and Governor Greg Abbott to stem the surge of immigrants to the Texas-Mexico border.
Economic Development Alliance Canales discussed the interdependence of the Eagle Pass and Piedras Negras, Coahuila, Mexico economies, as well as the U.S-Mexico international trade and commerce, and the need for comprehensive immigration reform by Congress.
Local attorney Calderon discussed that 99 percent of immigrants are seeking asylum due from persecution from their governments, political and criminal violence, poverty, and other reasons. Calderon noted immigrants seek asylum and the pursuit of the American dream. He added Congress has failed to enact comprehensive immigration reform in over 20 years, creating the current immigration crisis and that federal government officials are having to apply and enforce existing federal laws on the books-noting that each Administration interprets current immigration law and policy differently.
Eagle Pass and the middle Río Grande region of the Texas-Mexico border have been at the forefront of recent immigration detentions in the United States.
Nonetheless, the City of Eagle Pass received priceless news coverage of the current U.S.-Mexico border immigration situation and the potential impact the impending Title 42 decision may have on the community and nation.