First Wave of Migrant Caravan Traveling Through Mexico Reaches Eagle Pass, Over 300 Detained Locally
By: Dominic Valdez, Eagle Pass Business Journal, Inc., Copyright 2022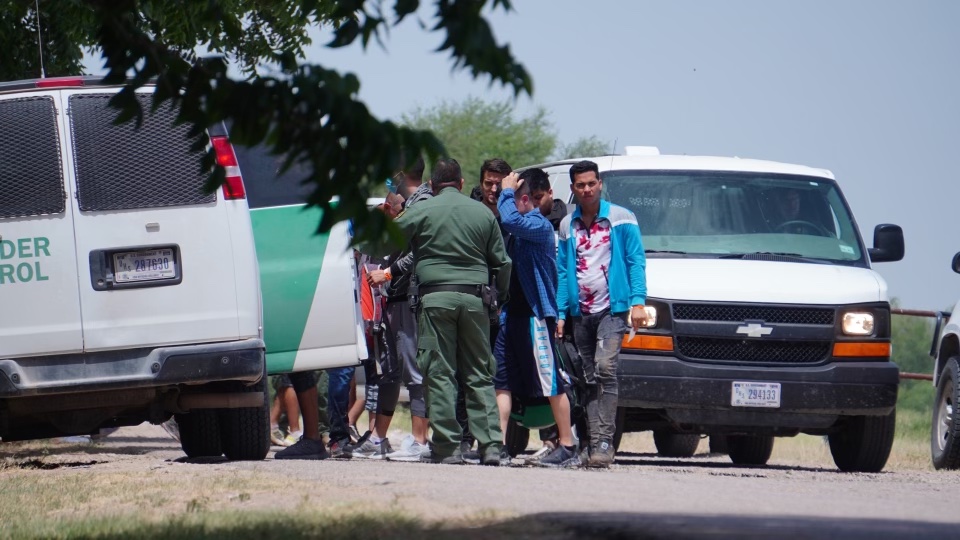 The first wave of a large migrant caravan traveling through Mexico, estimated to be between 6,000 to 11,000 strong, has reached the United States-Mexico border at Eagle Pass, Texas as over 300 migrants were detained at a pecan orchard on the banks of the Rio Grande River by U. S. Border Patrol Officers on Thursday, June 16, 2022 at approximately 12 Noon.
The Mexican federal government issued an estimated 11,000 permits to foreign migrants arriving at the Mexican southern border with Guatemala at Tapachula, Chiapas, Mexico during the past month. Many of these migrants are from Guatemala, Honduras, El Salvador, Nicaragua, Venezuela, Ecuador, Panama, Colombia, Haiti, and many other countries worldwide. Children, men, and women are fleeing their countries due to persecution, violence, drug trafficking, poverty, climate change, and catastrophic events such as volcanoes and hurricanes.
Many of these migrants have been traveling through Mexico on buses, trains, trailers, taxis, airplanes, and walking seeking asylum and the "American Dream."
This detention of over 300 migrants on June 16, 2022 is one of the largest seen in Eagle Pass, Texas, requiring multiple buses and tens of vans to transport the migrants to the Eagle Pass South U.S. Border Patrol Station and Processing Center. The migrants did not seek to flee or evade U.S. Border Patrol agents, but rather welcomed their detention in order to seek asylum. It is unknown if any of these 300 migrants will be criminally charged for illegal trespassing onto private property, a misdemeanor offense, under Texas Governor Gregg Abbott's controversial "Catch and Jail" Operation Lone Star Program by Maverick County Attorney Jaime "A.J." Iracheta.
The pecan orchard is located in southern Eagle Pass, formerly known as the Leonard Pecan Farm, just south of the Eagle Pass Camino Real International Bridge. The migrants appeared to cross the Rio Grande River through the Colonia Morelos subdivision of southern Piedras Negras, Coahuila, Mexico after arriving from their months long trip from their home countries.
Earlier on Tuesday, June 14, 2022, a group of 24 Venezuelan migrants escaped from the Mexican Institute of Migration Office in Piedras Negras, Coahuila, Mexico near the Eagle Pass Camino Real International Bridge and rushed onto the bridge seeking to enter the United States to apply for asylum, causing U.S. Customs and Border Protection (CBP) Officers to close the international bridge for about an hour in order to detain and process the migrants. After being processed, the 24 Venezuelan migrants were returned to Mexico or deported to Venezuela.
Local law enforcement authorities including U.S. Border Patrol, CBP, Maverick County Sheriff's Department, Eagle Pass Police Department, Texas Department of Public Safety (DPS), and Texas Army National Guard have been holding training exercises on the banks of the Rio Grande underneath the two Eagle Pass International Bridges to prepare for a large incursion of migrants similar to the one in Del Rio, Texas during 2021.
All local, state, and federal law enforcement authorities are on high alert for an expected incursion of thousands of migrants seeking asylum and entry into the United States. The first wave of migrants has just arrived and many new waves are anticipated in the coming days.