Parents, Students and Teachers Voice Concerns to EPISD Board of Trustees Regarding School Shooting Threats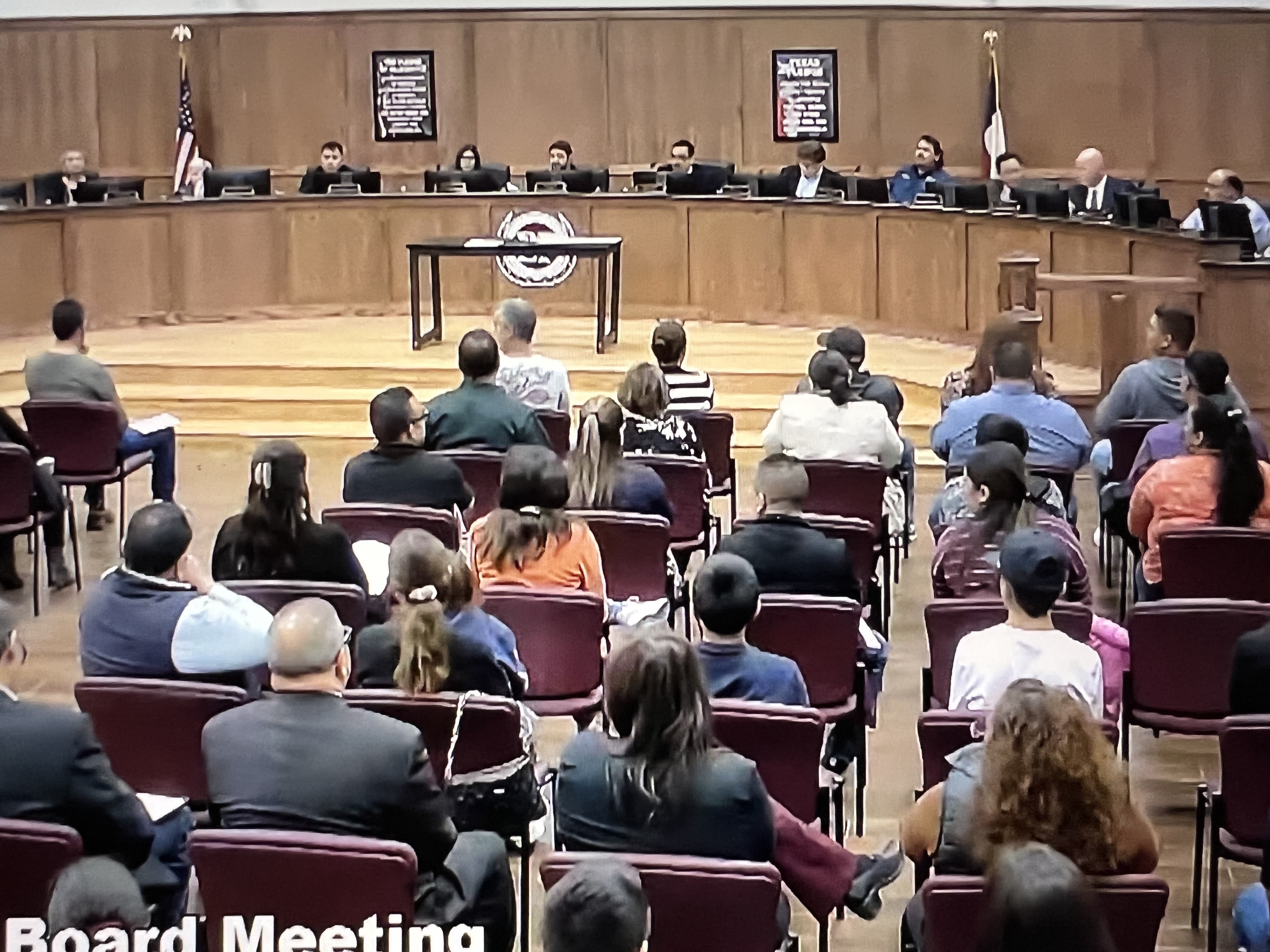 By: Ricardo E. Calderon, Eagle Pass Business Journal, Inc., Copyright 2022
Local parents, students, and teachers raised serious questions regarding the Eagle Pass Independent School District's Emergency Response System to school emergencies and threats of school shootings at the Monday, November 14, 2022 Board of Trustees Meeting held at the District Board Room, 587 Madison Street, Eagle Pass, Texas, citing that students are currently scared to attend school, emotionally and psychologically affected, and the school district's emergency response system is deficient and requires immediate upgrading to provide immediate notification to students, parents, and the community in the event of a school emergency.
With at least three known social media threats of a school shooting at Eagle Pass C. C. Winn High School and Memorial Junior High having been made by students or individuals within the last three weeks, local parents, students, and the community are at a heightened alert and anxiety level never seen before in the Eagle Pass Independent School District.
During the citizens communication agenda item of the November 14, 2022 Eagle Pass Independent School District Board of Trustees meeting, at least 10 individuals spoke regarding the current situation being experienced by students, parents, and the community concerning this school safety issue and the school district's inadequate emergency response system and notification of students, parents, and the community in the event of an emergency.
Local parent Orlando Marines was first to address the School Board and told them he was a parent of students attending Eagle Pass ISD schools and that his children were "now scared' of going to school. Marines noted that "no children should have to go through this of being scared" attending school. Marines stated he learned of the school shooting threats through text messages from his children and complained that the Eagle Pass ISD had taken "quite some time" to notify the parents and the community of the emergency situation. Marines questioned what was the School Board going to do to the individuals or students making these shooting threats on social media and what consequences will they face for making these threats. He noted his children were not comfortable being in school with the students who made these threats. His children had requested him to attend the meeting and raise these concerns on their behalf. Marines pointedly told the School Board members that the students and the community are looking to them for answers as "elected officials."
Local Eagle Pass ISD graduate and published author and musician, Aldo Marquez, stated he would like to recommend more music activities for students as a possible solution to get them more involved in their school work and community, leaving them no time to think or engage in such activities on social media. Eagle Pass ISD Board of Trustee Dr. Hector Alvarez replied to Marquez that the main concern in the community is the high level of anxiety currently being experienced by students and parents as a result of these social media threats.
Eagle Pass Winn High School Junior ROTC Teacher Greg Stankiewicz advised the Board of Trustees that the students are "scared" right now and they do not feel comfortable if the students making these threats return to school. Stankiewicz suggested that the students who make threats should not be returned to school. He suggested society and the community need to stay current with technology and social media. He recommended the community work together.
Janis Garza, a parent of three students, one at Rosita Valley Elementary, Memorial Junior High, and Winn High School, told the Board of Trustees that her children fear going to school and as a parent she doesn't feel safe sending her children to school. She noted her children fear if today is the last day they go to school. Garza stated that the Eagle Pass ISD and Maverick County do not have the resources nor the knowledge to tackle such a scenario. She added we do not need another massacre such as Uvalde. She stated parents feel as if the school district shoves things under the rug. She requested parents need solutions from the school district and they need them today. She recommended metal detectors be placed at every school and to bring public speakers, therapists, and specialists to speak with the students and educate them about the consequences of making such threats. Students need to be made to feel safe again at school. She concluded stating it takes a village to raise a child and for the school district and community to be that village that educates the children.
Eagle Pass Winn High School sophomore Hiley Garza stated she was a band member and her only worry right now is making sure to come home safe from school instead of doing well and learning her regional music. She noted not feeling safe attending school right now with the recent threats. Unfortunately, the Eagle Pass ISD You Tube video recording lost the sound audio while this student and another parent spoke.
Another parent, Mr. Cabril of San Luis Elementary PTA spoke and told the School Board that his eight year old son is afraid of going to school. He recommended that leadership starts at home and ends with the school district. He suggested parents should talk to their children and take them to Uvalde to understand what's happening today.
Tasha Dovalina stated she was a military spouse for 20 years and her children had attended 10 different school districts. Dovalina stated the Eagle Pass ISD emergency notification system through REMIND App is insufficient to notify the community of an emergency such as the shooting threats. She recommended the school district implement emails, text messages, and voicemails to the emergency notification system. She noted many children are being raised by grandparents and many of these do not have a cell phone or know how to use the REMIND App. She urged the school district to expand its methods of emergency notification to the community across the board and communicate better with the community in different ways.
Isabel Rodriguez spoke in Spanish to the Board of Trustees and told them our children are not safe in our schools and there are no interpreters to translate for non-English parents. She added the district's Emergency Response System is not working despite having all summer to prepare for this school year and that not all parents are learned in social media and have access to social media. This situation is causing panic and anxiety among the students and parents. She noted that if the district's Emergency Response System had worked, there would not have been a second or third threat made in recent weeks. She learned of the threats in interviews with the press. She suggested the district have a more efficient emergency notification system with the students, parents, and community utilizing multiple means of communication. She noted CC Winn High School has not had a mass shooting drill with students and students are worried if a future threat may be real or not. She noted her children have been affected emotionally and psychologically by these threats. She added that she has not received any letter nor direct information from the district concerning the situation. She cited better communication and information in both English and Spanish is necessary from the district. She encouraged parents to speak up for their children.
Victor Rodriguez stated that the school district's emergency notification system is non-existent and needs to implement a similar system used in colleges and universities. He noted most parents learned from other parents about the threats. He added the school district needs to improve its emergency response system and notification system. He suggested the school district is ill-prepared to respond to these school shooting emergencies and notifying the students, parents, and community.