Southwest Texas Junior College Inaugural Clinical Medical Assistant Program Graduates 11 Students on November 18, 2022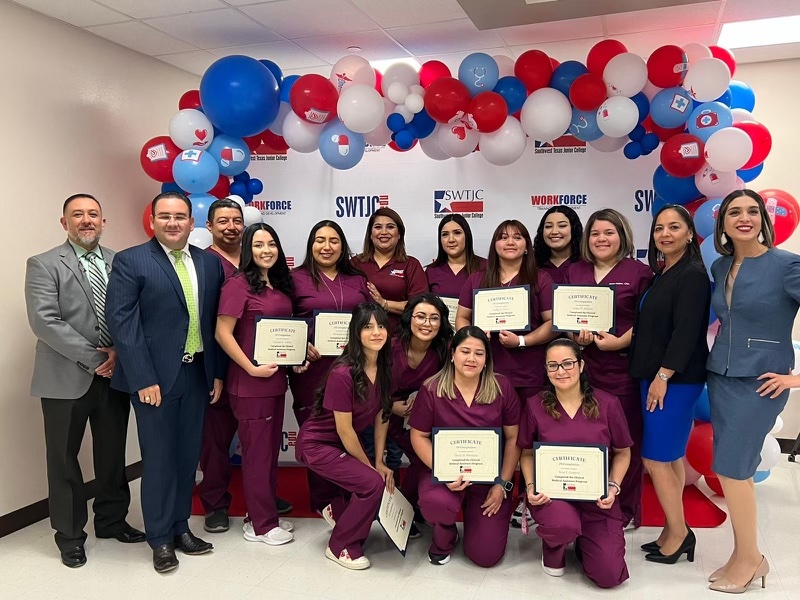 By: Ricardo E. Calderon, Eagle Pass Business Journal, Inc., Copyright 2022
Southwest Texas Junior College announced its inaugural Clinical Medical Assistant Program, a joint program with the Texas Workforce Commission, graduated its first 11 graduates at a commencement ceremony held on Friday, November 18, 2022, at its Eagle Pass, Texas campus, featuring keynote speaker Maverick County Judge-Elect Ramsey English Cantu sharing some words of wisdom and praise to the graduates.
Kristen Sanchez opened the commencement ceremony with an enlightening speech to the graduates and welcoming remarks to the family, friends, and guests of the graduates attending the historic ceremony.
Eagle Pass Family Nurse Practitioner and Program Instructor Claudia Santana, FNP-BC, congratulated the graduates and encouraged them to go forward with their newly-acquired clinical medical assistant skills in providing quality healthcare services to their patients and employers, as well as to continue their education in healthcare.
Maverick County Judge Ramsey English Cantu congratulated the graduates on their completion of the clinical medical assistant program and commended them for their genuine interest in the growing healthcare field and making a difference in society. Cantu also commended Southwest Texas Junior College and the Texas Workforce Commission for their collaboration in bringing this much needed healthcare program to Maverick County.
Graduating Class Valedictorian Rosa Ramirez thanked all of her classmates, instructors, and family members for supporting her and fellow classmates in successfully completing the clinical medical assistant program and wished all of her classmates success in their new careers in healthcare.
Southwest Texas Junior College Clinical Medical Assistant Program Instructors Claudia Santana, FNP-BC, and Diamantina Galindo presented the Certificates of Completion of the Clinical Medical Assistant Program to the graduates.
The first 11 graduates of the Southwest Texas Junior College Clinical Medical Assistant Program in Eagle Pass include Rosa Ramirez, Citatli Aguilera, Alicia Alfaro, Biridiana Chavez, Stephanie Garcia, Naydelin Garza, Marco Gaytan, Johanna Gonzalez, Brandy Lara, Solana Molinar, Denise Montano, Jasmyn Perez, Rosa Ramirez, Emily Torres, and Brianna Vielma.
Kristen Sanchez presented the closing remarks and the graduates and guests enjoyed refreshments after the commencement ceremony.