Taco Palenque Starts Construction on New Restaurant in Eagle Pass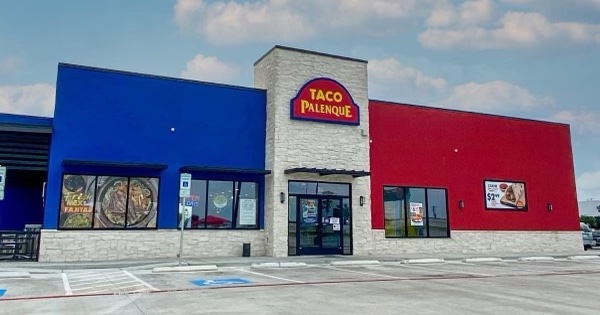 By: Ricardo E. Calderon, Eagle Pass Business Journal, Inc., Copyright 2023
Eagle Pass Mayor Rolando Salinas, Jr. announced on Thursday, March 16, 2023 that Laredo, Texas-based Taco Palenque has commenced construction of its newest restaurant in Eagle Pass, Texas in an exclusive interview with the Eagle Pass Business Journal.
Mayor Salinas stated Taco Palenque is making a multi-million dollar investment in Eagle Pass with its new restaurant in Eagle Pass and will employ up to 45 people in the community.
Taco Palenque started moving the dirt with heavy equipment machinery on the real property located behind Fuddruckers to commence construction at the future site of the new restaurant.
Taco Palenque is known for grilling the freshest fajitas accompanied by fresh Mexican salsas and foods. Taco Palenque offers an open self-serve condiment bar with fresh Mexican salsas, homemade tortilla chips, fresh cucumber slices, and other food condiments. The open condiment bar is a customer favorite.
Taco Palenque was founded in 1987 in Laredo, Texas by Juan Francisco Ochoa and family and has grown rapidly to 34 locations throughout South Texas known for its fresh grilled beef and chicken fajitas and freshly made tortillas.
Taco Palenque has restaurants in Laredo, San Antonio, McAllen, Edinburg, Brownsville, Harlingen, Mission, San Juan, Palmhurst, Weslaco, San Antonio, Cedar Park, Cotulla, New Braunfels, Round Rock, Schertz, Helotes, Corpus Christi, Houston, Monterrey, Nuevo León, Mexico, and soon in Eagle Pass.
Mayor Salinas noted the new Taco Palenque restaurant will offer Eagle Passans and visitors a new choice among local dining establishments, offering fresh Mex fajitas and salsas.
Mayor Salinas added Eagle Pass is rapidly growing and investors have demonstrated interest in making new investments in the community. Salinas noted the City of Eagle Pass has been aggressive in recruiting new investments to the community through its Economic Development Department led by its Director Arturo Marquez, partnering with other economic development organizations, and offering Chapter 380 tax abatement agreements to investors.
Eagle Passans responded favorably to the news of Taco Palenque opening locally and noted its foods are delicious and freshly made on site, especially the beef and chicken fajitas are awesome.
Eagle Passans noted they would like to see new food stores such as Target, Sam's Club, Costco, HEB Plus, and new industry such as manufacturing, technology, automotive, banking, and medical specialists and healthcare providers in the community.