KINL 92.7 FM Radio Station Grand Re-Opening Held in Eagle Pass, Texas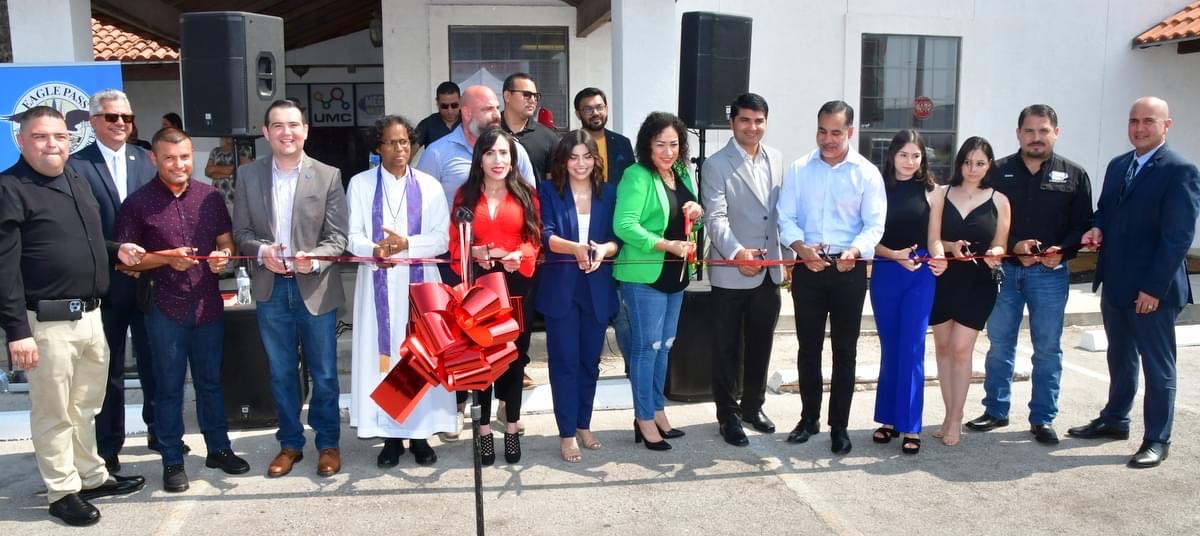 By: Ricardo E. Calderon, Eagle Pass Business Journal, Inc., Copyright 2023
After being closed since June 30, 2022, KINL 92.7 FM Radio Station in Eagle Pass, Texas returned on the air on Thursday, June 15, 2023 under new ownership and management with a Grand Re-Opening Ribbon Cutting Ceremony held at its new office located at 725 Main Street, Eagle Pass, Texas to the delight and excitement of local public representatives, loyal listeners, music lovers, and community citizens and businesses.
Universal Media Connections Agency owned by Cynthia Rankin, Roberto De La Fuente, and Rohit Chadhaury purchased five radio stations from previous owners including KINL 92.7 FM and KEPS 1270 AM in Eagle Pass. Plans are to open KINL 92.7 FM first in Eagle Pass and later KEPS 1270 AM.
The Eagle Pass Chamber of Commerce hosed the grand re-opening ceremony on June 15, 2023 with Executive Director Ruben Herrera serving as Master of Ceremony. Herrera welcomed back KINL 92.7 FM Radio to the community and its new owners.
Eagle Pass Mayor Rolando Salinas, Jr. stated it was a great day for Eagle Pass to regain the opening of KINL 92.7 FM Radio Station after being off the air for almost a year in the community. Salinas thanked the new ownership group composed of Rankin, De La Fuente, and Chadhaury for their trust and confidence in Eagle Pass and investing in the community.
State Representative Heriberto "Eddie" Morales, Jr. stated he was honored to be part of the ribbon cutting ceremony for the grand opening of KINL Power 92.7 FM Radio Station in Eagle Pass and congratulated the new owners for bringing back the favorite music of Eagle Passans and providing local news to the community.
Attending the grand re-opening ceremony included Rick Wickes, Marketing Director of the Kickapoo Lucky Eagle Casino and Hotel, Aide Castano, Marketing Director for the City of Eagle Pass, attorney Alfonso "Poncho" Nevarez, radio disc jockeys and personalities Ric Mendez, Jr., Julie Solis, Karla Flores, Alyssa Perales, Emilio Casas, Fernando Sanchez, Fidel De Luna DJ Big Dog, and many local business owners and citizens.
The new owners of KINL Power 92.7 FM Radio Station previously opened Mega 94.3 FM in Eagle Pass and will be operating both stations simultaneously.
Following the ribbon cutting ceremony, guests were provided a tour of the new office of 92.7 Power FM Radio Station and refreshments served.