Eagle Pass High School Class of 1978 Celebrates 45th Year Reunion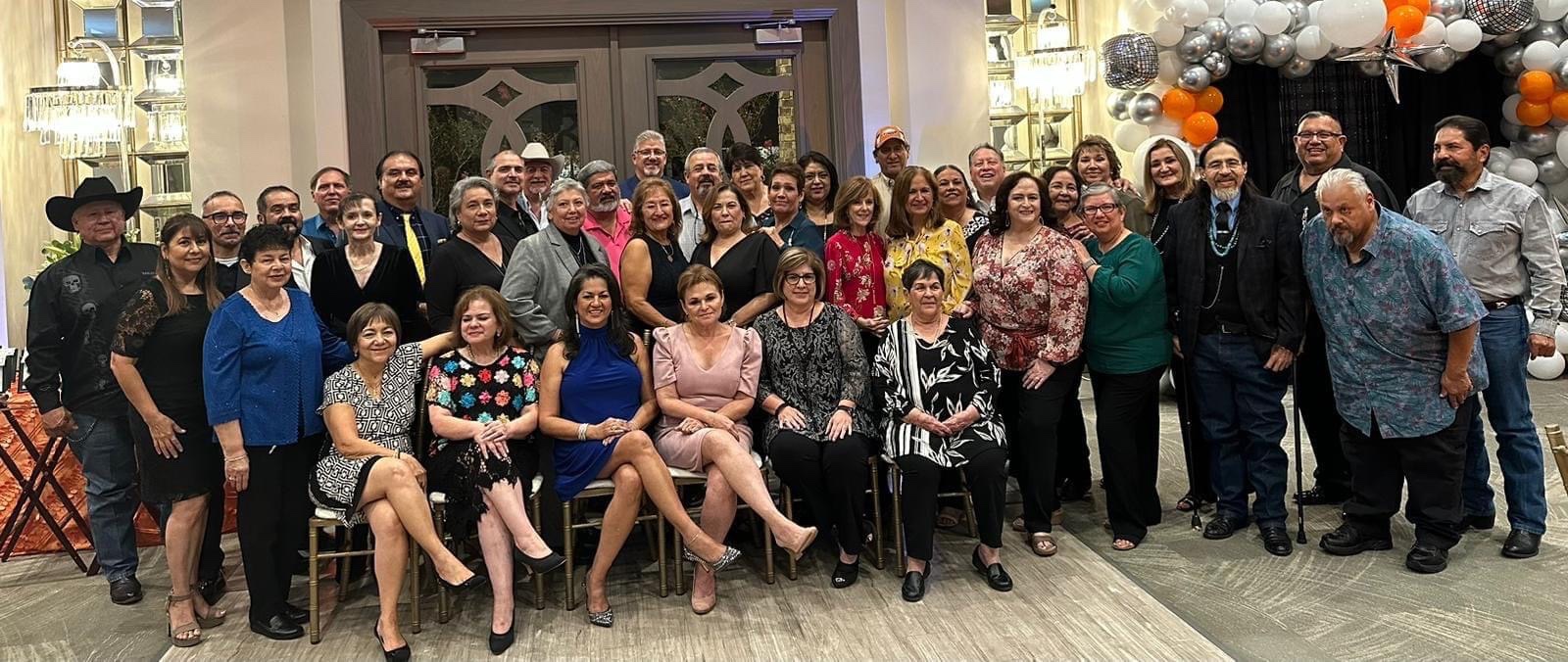 By: Ricardo E. Calderon, Eagle Pass Business Journal, Inc., Copyright 2023
During 1974 through 1978, the Eagle Pass High School Class of 1978 soared above all others with an exhilarating school spirit, honor, integrity, and service, garnering two Battle of the Classes Homecoming Spirit Awards in 1976 and 1977 while placing a close second in 1975.
During October 20-21, 2023, over 60 members of the Eagle Pass High School Class of 1978 and their families celebrated a joyous and memorable 45th Year Reunion in Eagle Pass, Texas.
On Friday, October 20th, members of the Mighty Eagles Class of 1978 were hosted by class member Mary Lou (Perez) and husband, Juan Betancourt, at their beautiful residence to a registration, greet, and mixer reception and dinner under the beautiful sky and moon on the banks of the Rio Grande. Some of the Class of 1978 members attended the Eagles homecoming game against Laredo LBJ Wolves at the Eagle Pass Independent School District Cozel Foster-Veterans Memorial Stadium. Class members enjoyed a grand time and hospitality at the Betancourt residence and caught up with each other and families.
On Saturday, October 21st, the Class of 1978 held a memorial mass service in honor of over 30 classmates who have passed away since graduating in 1978 at Our Lady of Refuge Catholic Church and prayed for their fallen angels as well as for continued blessings and prosperity for all class members.
Following the memorial mass service, the Class of 1978 members celebrated their 45th Year Reunion with a Dinner Dance at The Venue by Lili's while enjoying the wonderful music of the 1970s and taking keepsake photographs with each other and as a class reunion. The ambiance at the Dinner Dance was festive, celebratory, cheerful, and the dinner was outstanding. Classmates reminisced about how fast time flies, exchanged phone numbers and emails to stay in contact, and vowed to meet once again in five years to celebrate their Golden 50th Year Reunion. Classmates enjoyed an evening of fulfillment, laughter, and exuberance at the Dinner Dance.
The Eagle Pass High School Class of 1978 45th Year Reunion was a great success overall. The 45th Year Reunion Organizing Committee composed of Juan Jose Olivares, Rebecca Robinson, Mary Lou Betancourt, Ana V. Libson, Guillermo Villasenor, Tracy Mynar, Jesus Melendrez, Diana P. Hardt, Leticia Reyes and others did an outstanding job hosting the reunion and rekindling the greatness of the mighty Class of 1978 just like their high school years.